An image that awakens stories.
A story that unfolds images.
Diana Martin's exquisite work dwells between visual and reading experiences. It's laying eyes upon an image and recognizing one or two narratives in it, stories that stick with you, and finally become part of what makes reality less sad, less deceitful. A story from which images flutter around, a book that becomes more and more real, both deeply personal and irreplaceable illustrating that moment in which we read. The drawing of a serpent swallowing an elephant. "My drawing does not represent a hat. It represents a boa serpent digesting an elephant".
Index
Statement
The Unrepeatable is a series of inks and drawings on paper, nurtured by visual artist Diana Martin's non-stop work of more than twenty years. It is a curatorship of her current work in the company of Serafina's story, unicorn woman of infinte literary and visual resources.
Like a kaleidoscope of stories, joint, intertwined and engaged; or even continued or disaggregated around Serafina and other characters, whomever visits this show will have the opportunity, as would a reader in front of a book, to wander across the stories enclosed in an image, to imagine and draw inspired by the characters and, above all, to read beyond all other mediums and disciplines.
Serafina, her shoebill storks, her surrogate mothers, her ties to the world, the joys and sorrows that color her life are permeated by that bittersweet awe that comes from knowing that its beauty is impermanent, that everything in the world has an end, and that nothing lasts forever. Serafina, as a hybrid being in possession of a prolonged life, will be there to shelter the life and death of everyone she loves with tempestuous tenderness. Very much unlike her mother Gilda, hell-bent on preserving unicorns, a species doomed to an unavoidable and natural extinction, Serafina allows herself to be deeply moved by the finitude of things. Gilda, engaged on a sterile quarrel with death and endings, loses her life bringing into the world this long-lived lover of the ephemeral, a devoted beholder, a being almost the polar opposite of her.
About Diana Martin
Mexican visual artist, she has been professionally drawing since 2001, when she held her first solo exhibition. Having been filling entire blank notebooks with drawings since very young and can't recall a time in her life when she wasn't drawing. Telling stories through images, creating fascinating characters that are born directly from her experiences with the world has always been her thing.
Her stories unfold in the same universe, "The Wrong Side of Town", her favorite instruments to weave them: graphite and ink. Her first character was Siax Lanke, a hermit living in lockdown, perennially in fear of the ringing of his phone, then came Klodia Columbario, a one-eyed woman who, with the help of her scalpel knows where to cut to empty the emotions burdening people's hearts.
Later, Errut Trastabire came to life to take her place in front of the ocean, and Lavinia Borromeo, a vodevil performer discovering that her devoted audience have always been ghosts, turned into Klodia's dearest friend, both listening to each other with undivided attention while in the deep meandering alleys of the wet city, Selma Lúnula mends broken umbrellas for The Damp Ones and apeaces the suffocating fish that writhe non-stop in her chamber, never finally dying.
She also weaved The Pursuers, a story about a couple that, after a serendipitous encounter, sailed together into the Big Sea, on a boat built from a splinter, with a rose petal for a sail, before meeting her own shipwreck and having to swim apart from each other to the coast, never to be together again.
In three memorable occasions, Diana brought her work even closer to her audience in an unique and immersive way by the "Art Tasting" show format, in which she provided gloves and magnifying glasses to the attendees, who enjoyed the pieces with no frame nor glass while she deepened on the story and answered questions.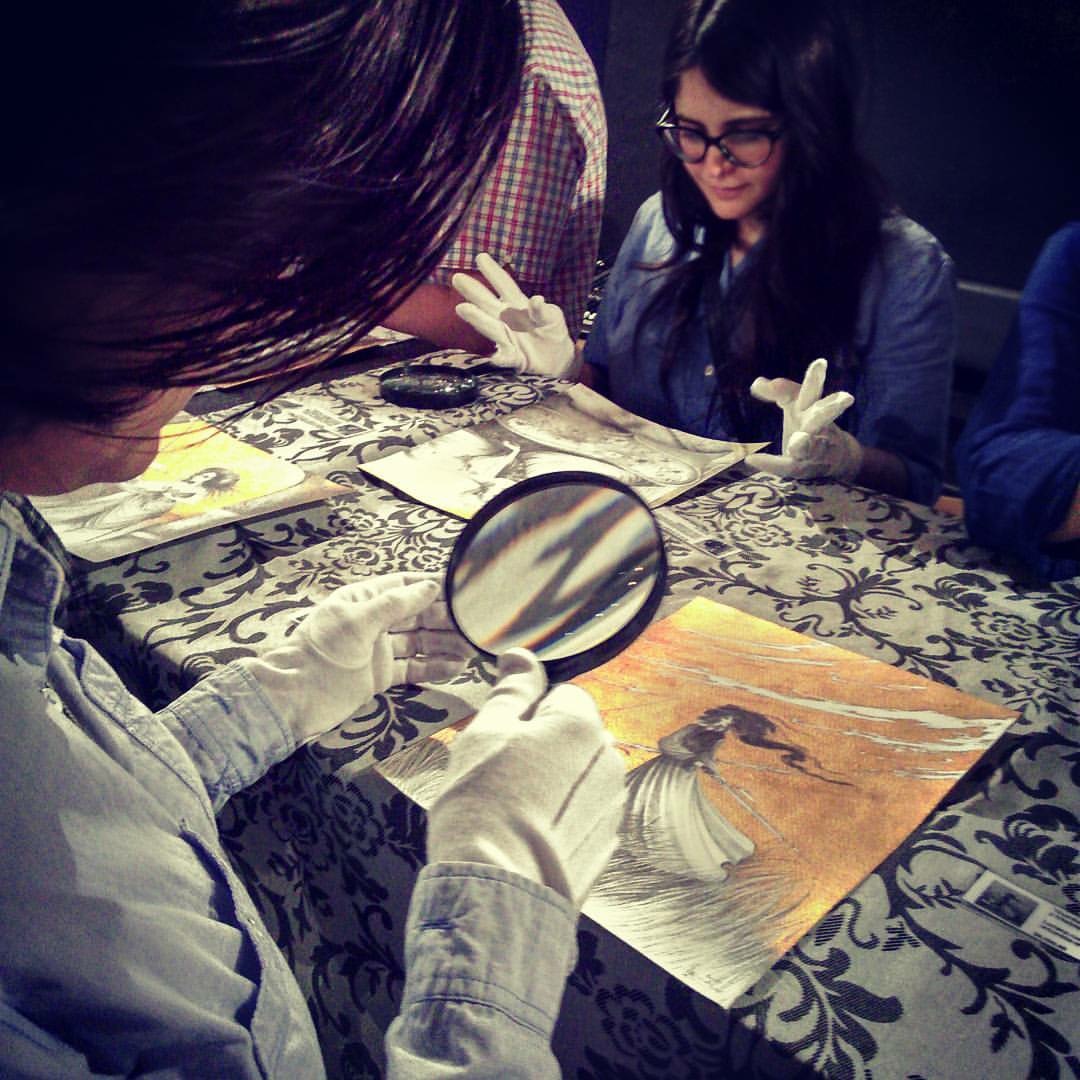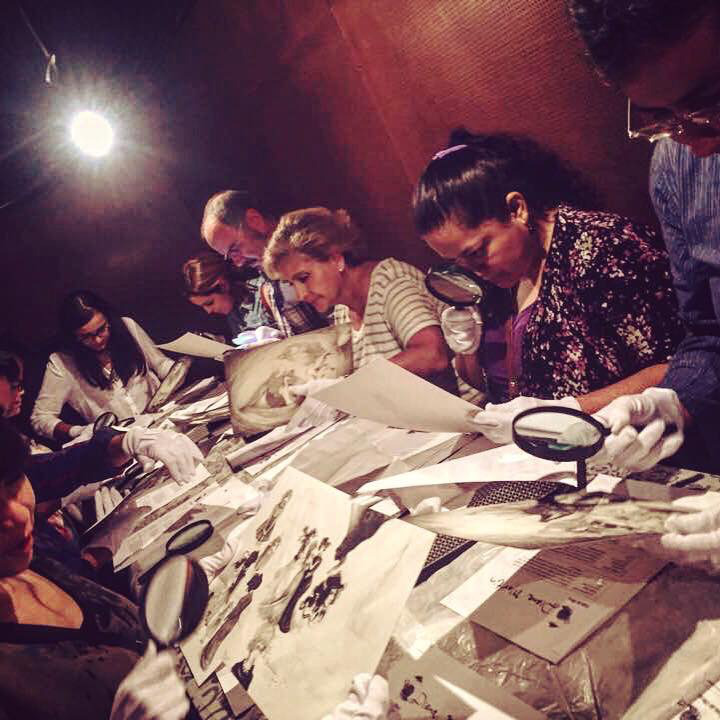 Diana has focused on the production of personal work for two decades, and her stories have been exhibited in different venues around the world. Her book, "Serafina y el Ardid Insondable" (Serafina and the Unfathomable Ruse) was chosen to represent Mexico in the International Graphic Novel and Comic Book Fair of Angouleme, France in 2018.
In February of 2020, she took one of her most recent characters, Lord Diadema, to Tokyo, where she held a pop up exhibit at Desing Festa Art Gallery in the heart of the dyamic Harajuku neighborhood.
During 2021, she exhibited this selection of works in the Javier Arévalo Art Gallery in Zapopan, Mexico, under the title "Entrelíneas, soñamos en blanco y negro" ("Between the lines, we dream in black and white").
Artwork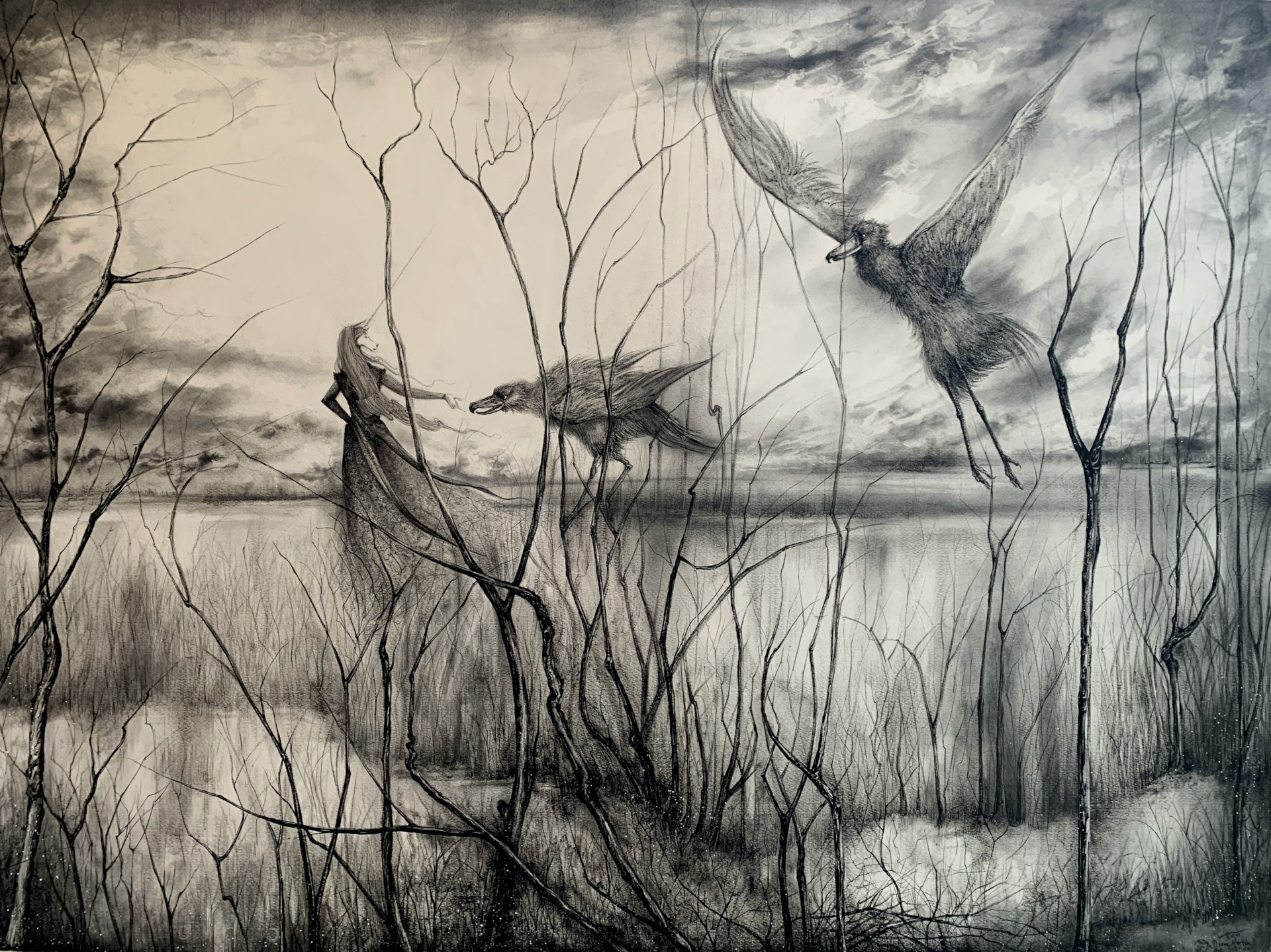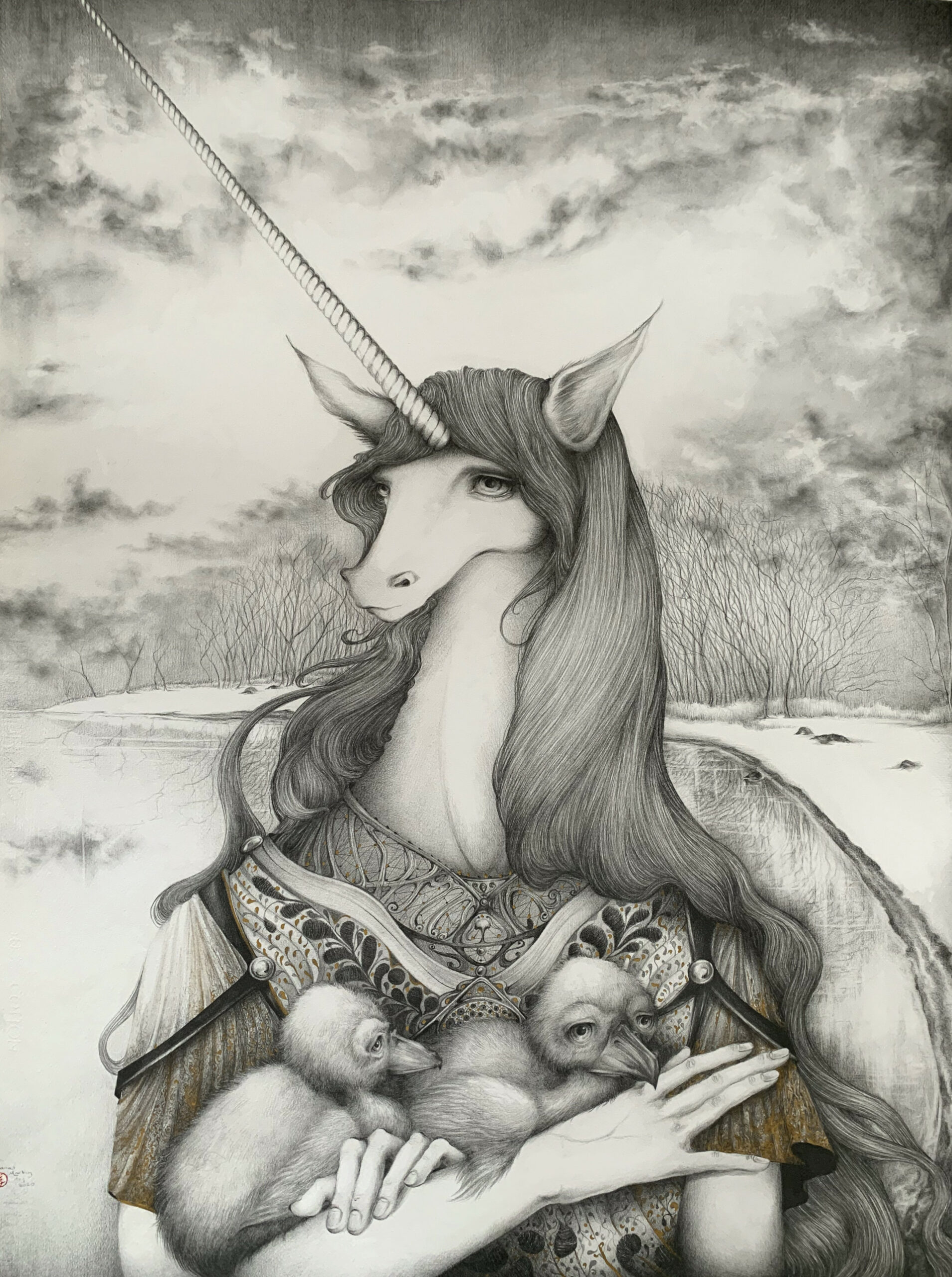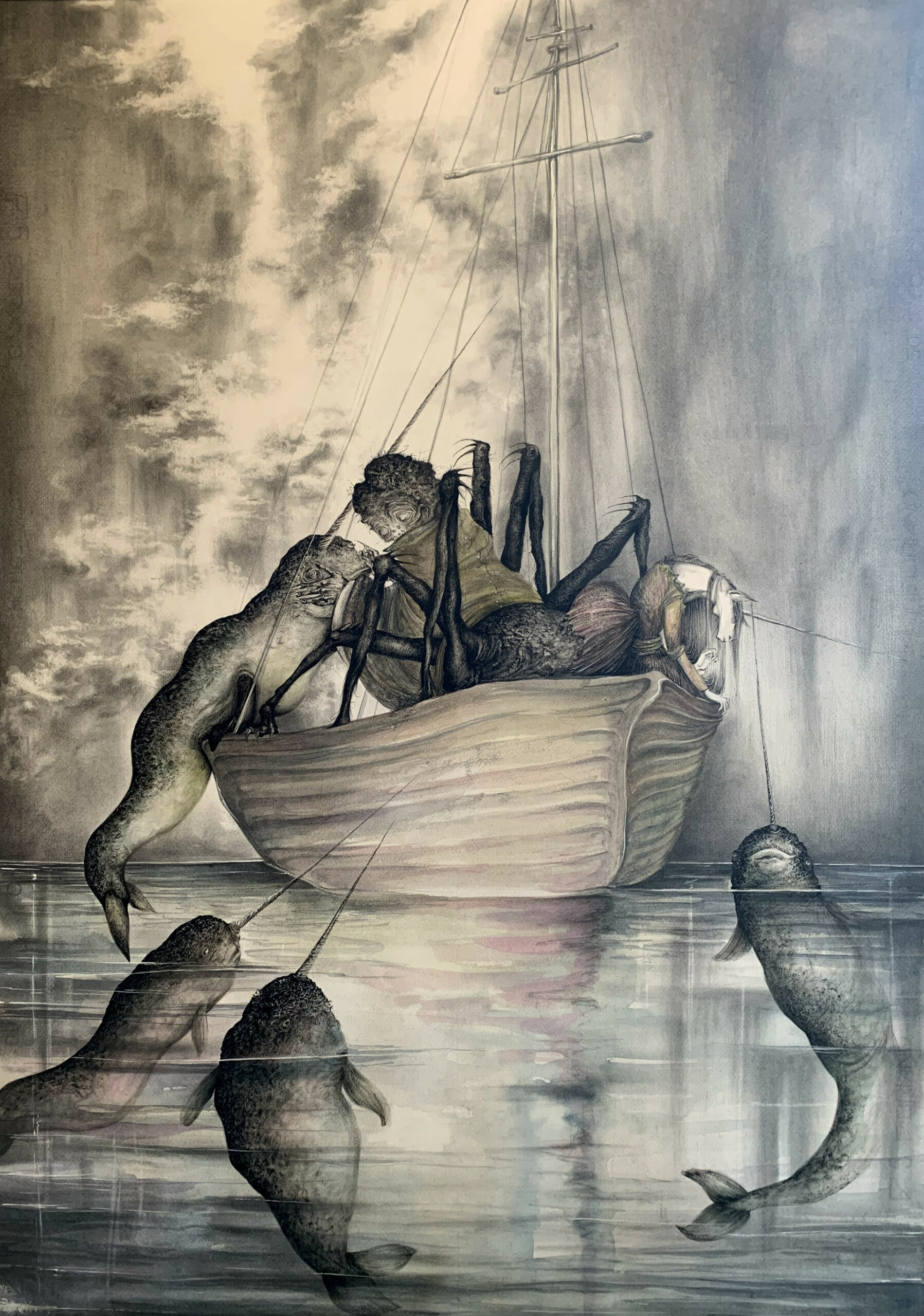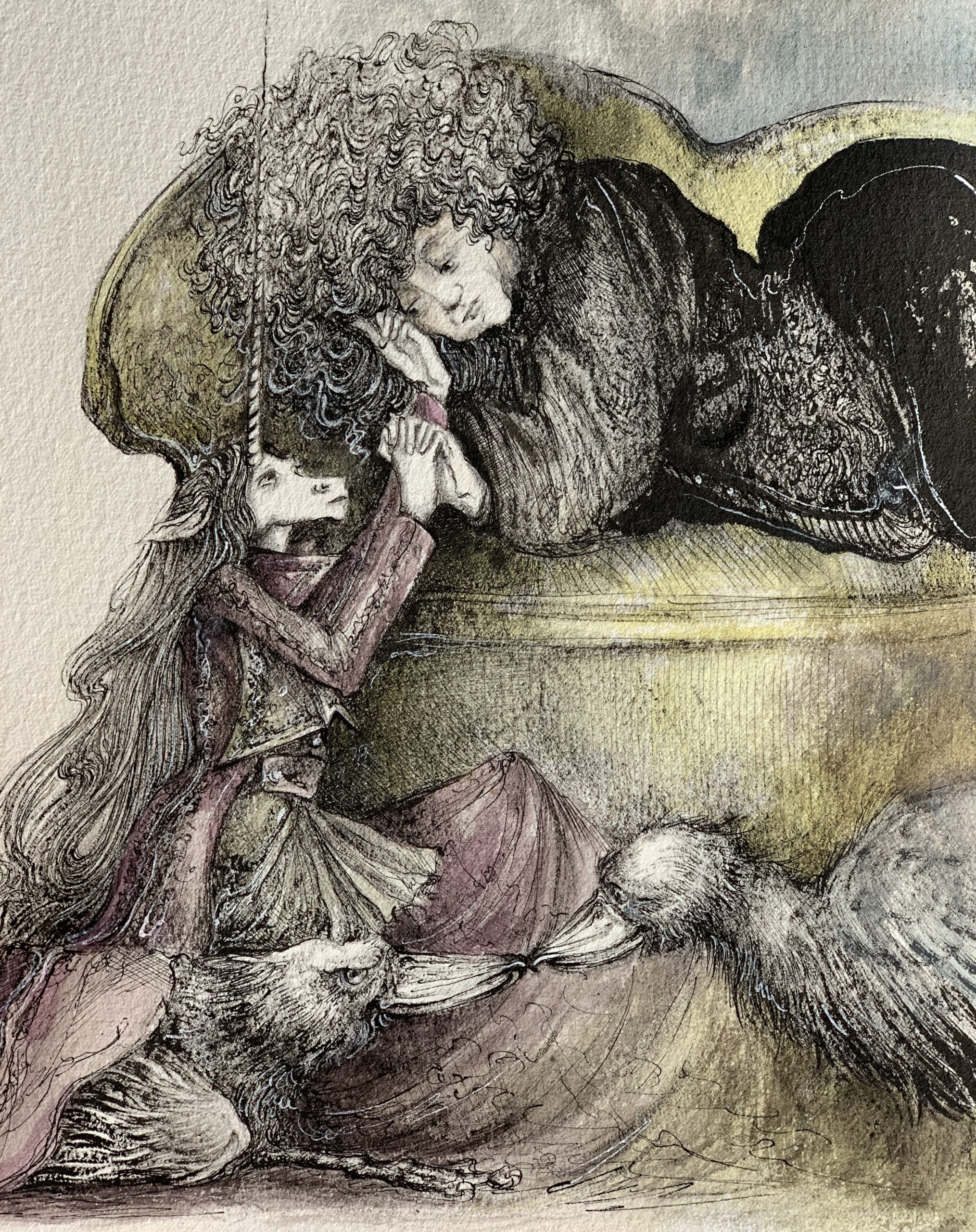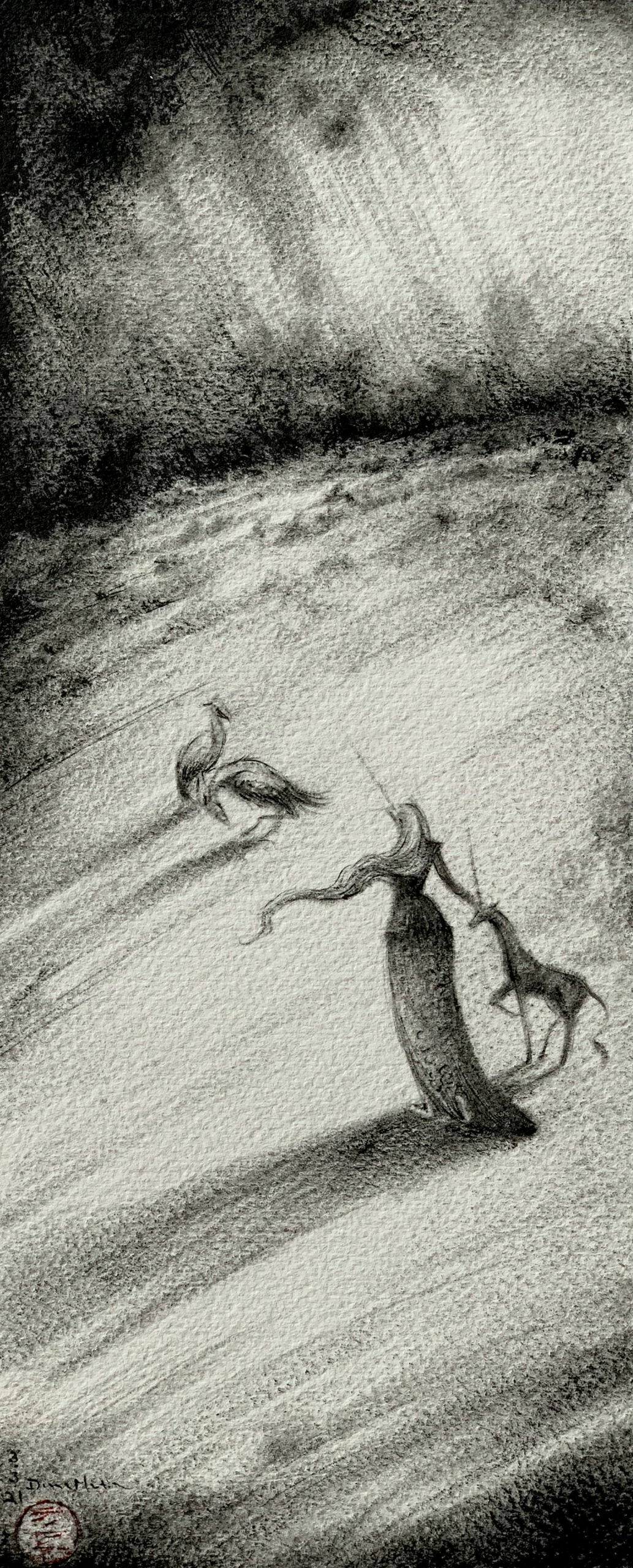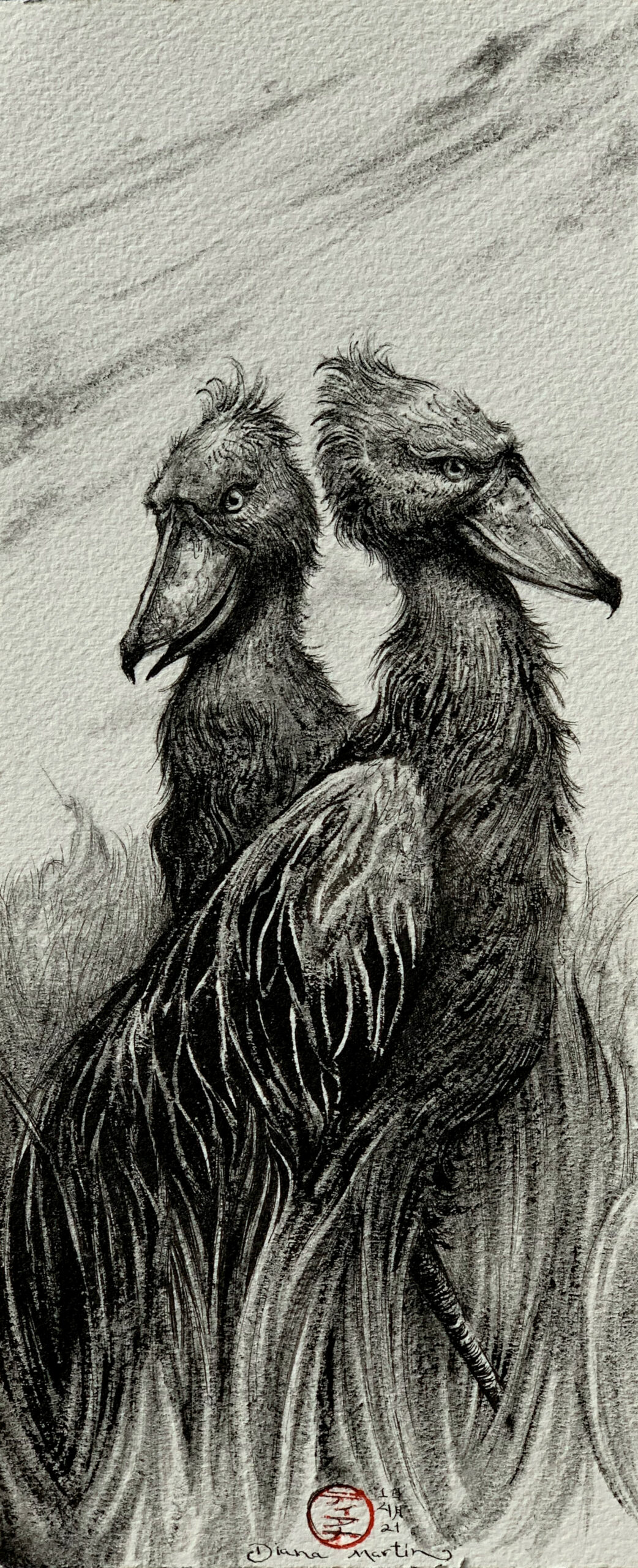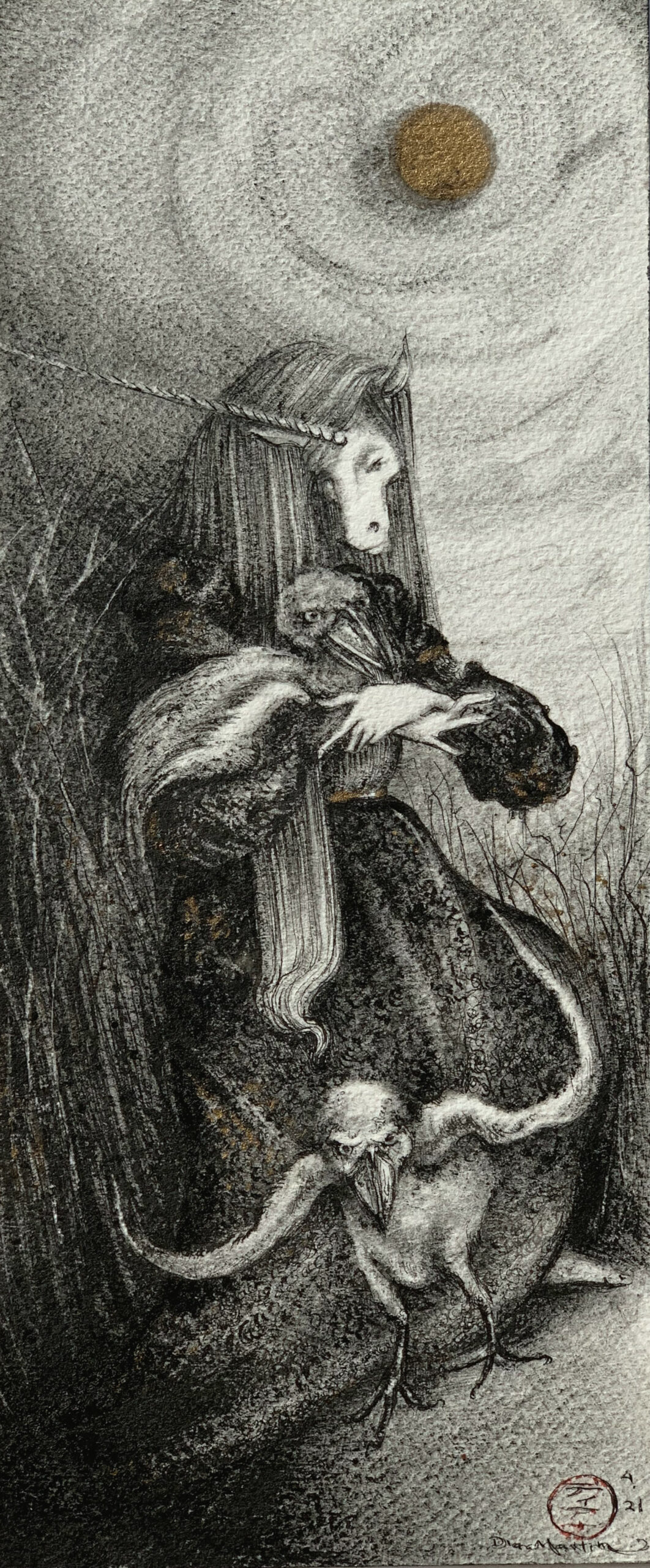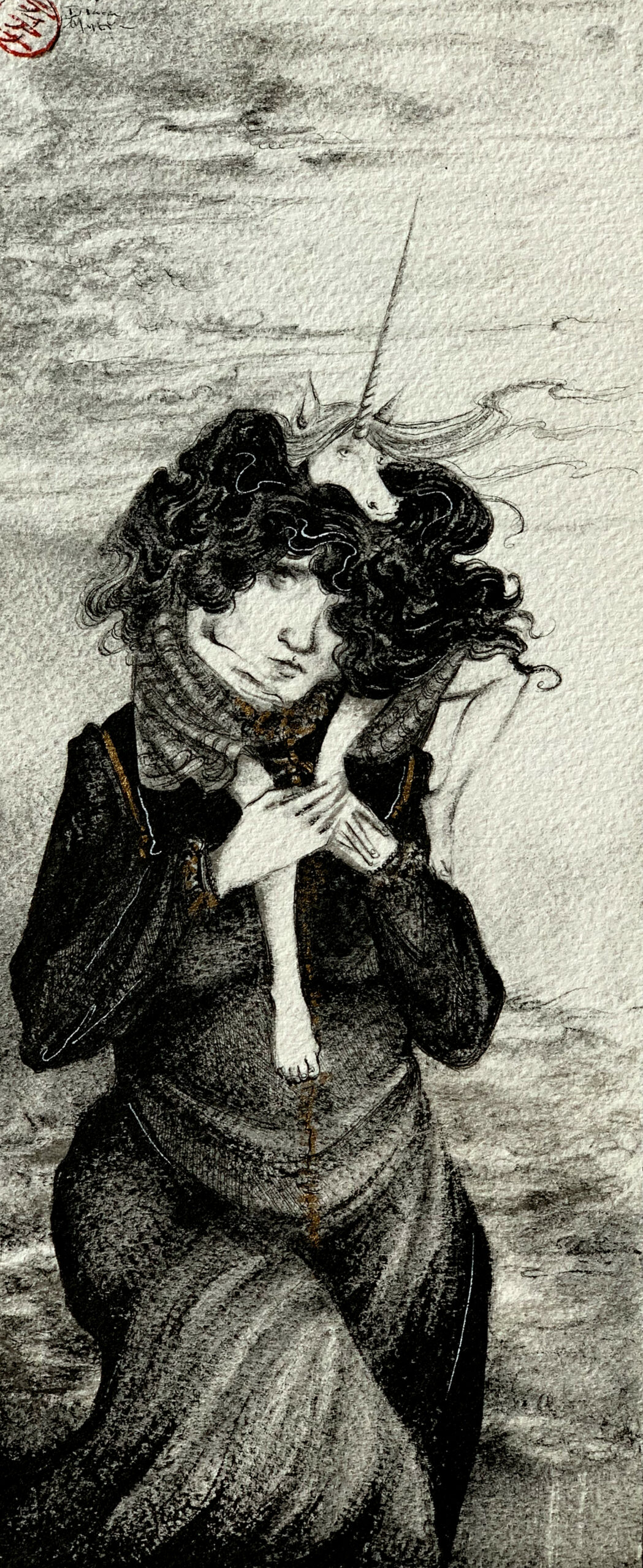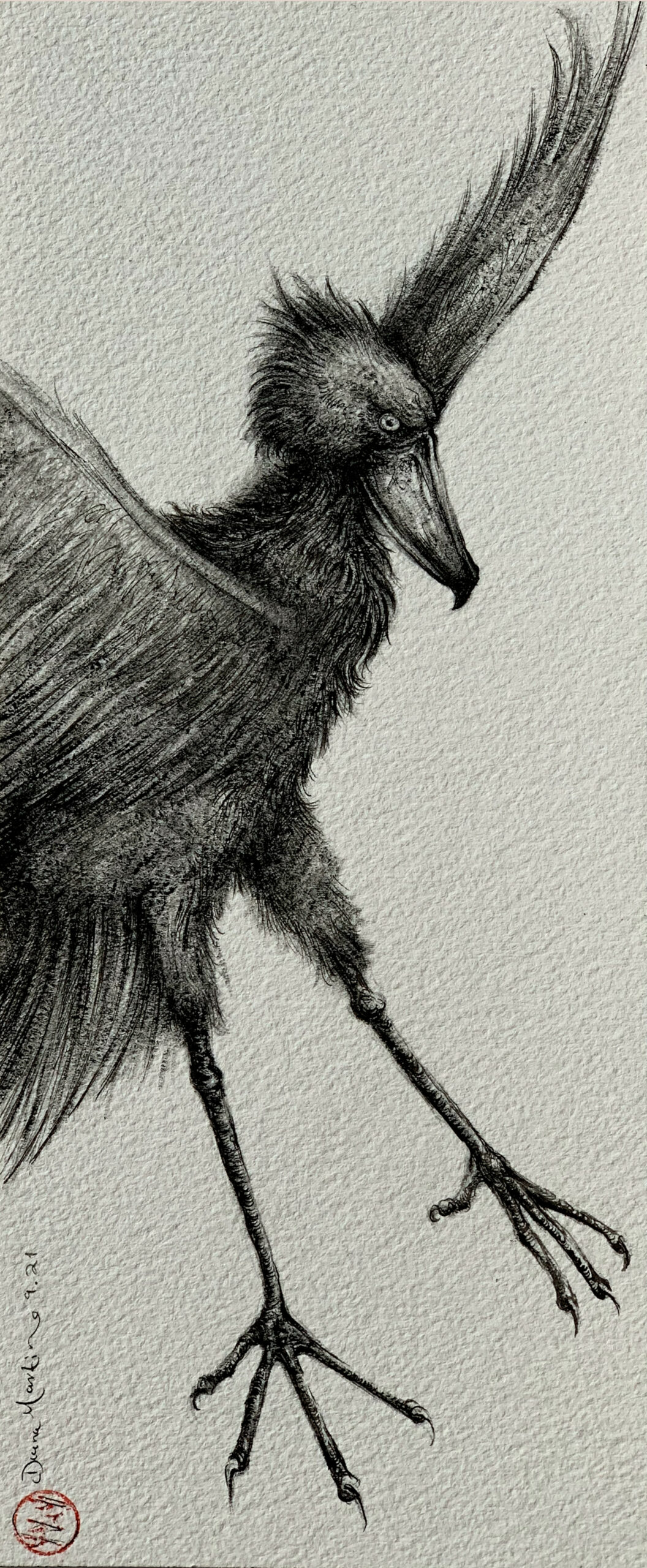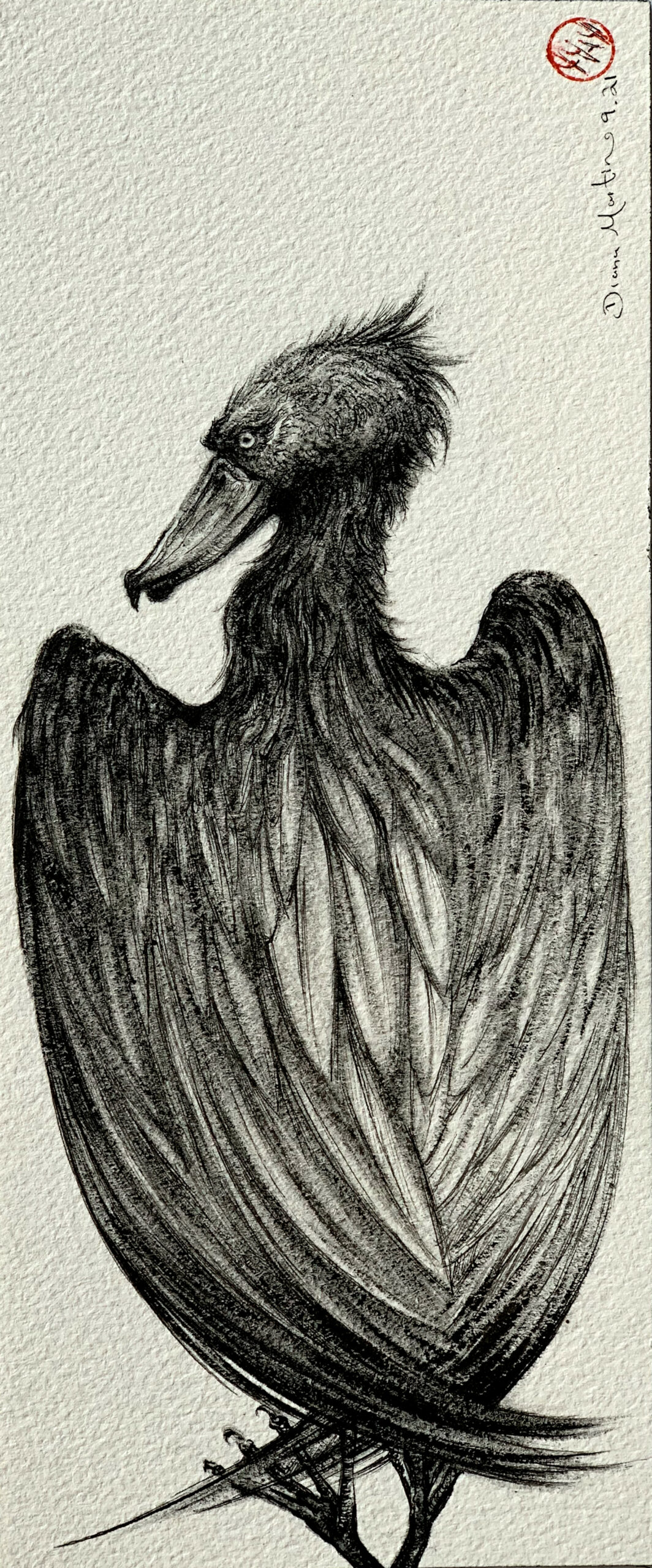 "Stillness and flight"
Dyptych. Ink on paper
10 x 4 in | 25 x 10 cms each piece.
2021
"I found an honesty and maturity in ink applied with brush that I didn't know I was looking for, its uneven edges, its textures upon paper, the feeling of not being in control was exhilarating. On the other hand, I had to be very precise and clear about what I wanted to draw. In the middle of both feelings this series was born, and from the technique, feelings and symbols flowed".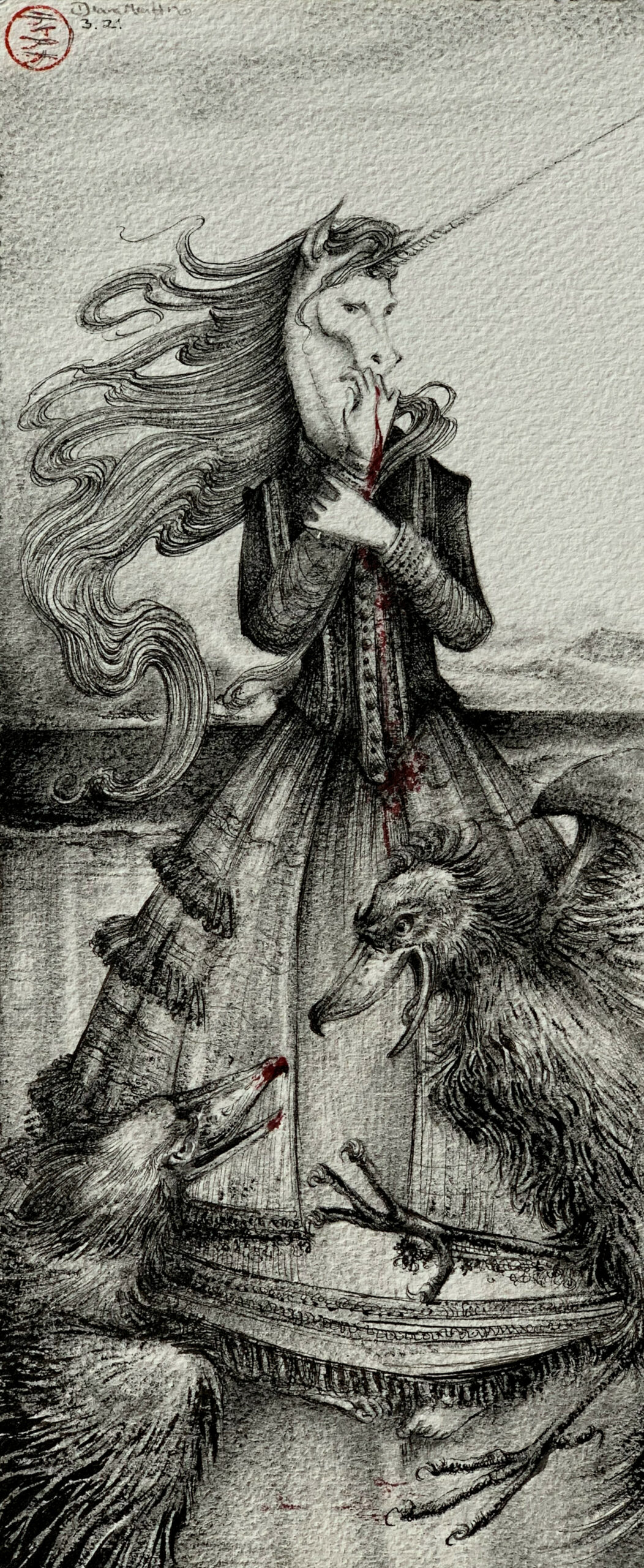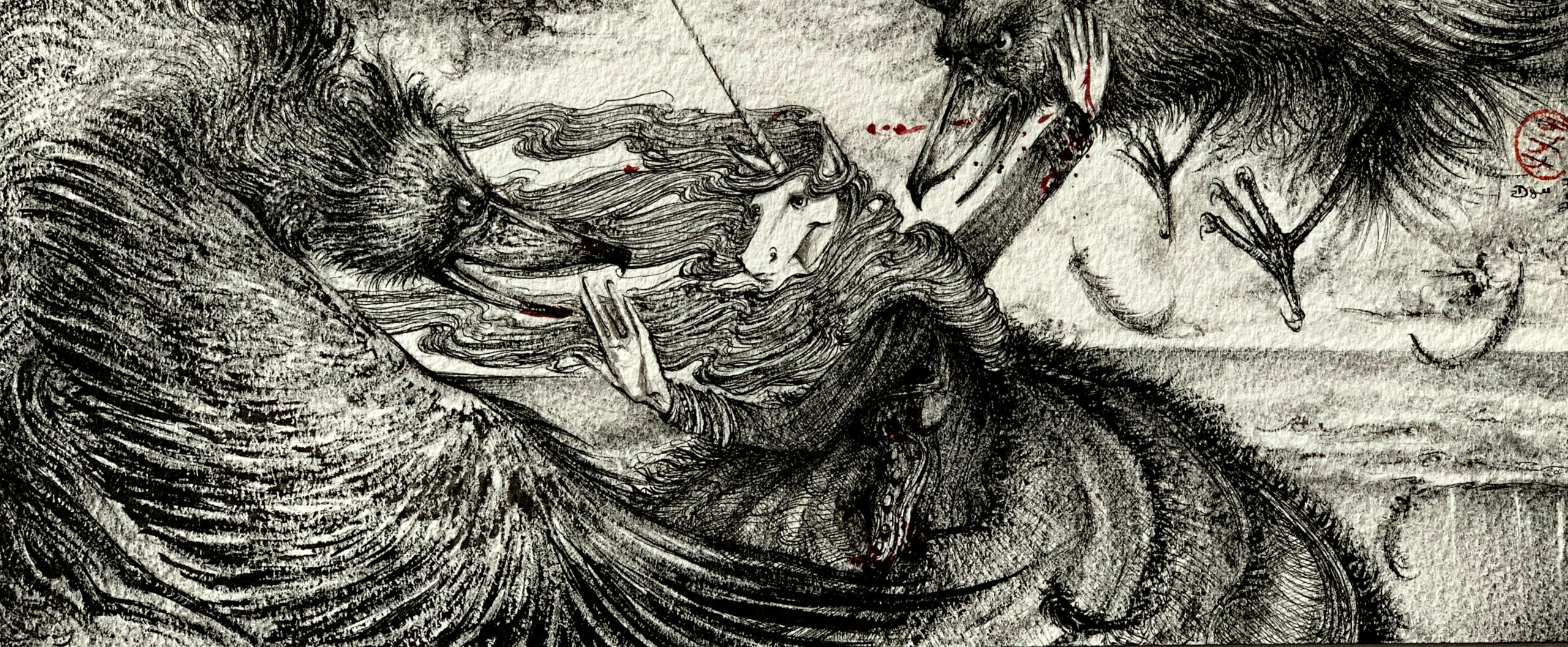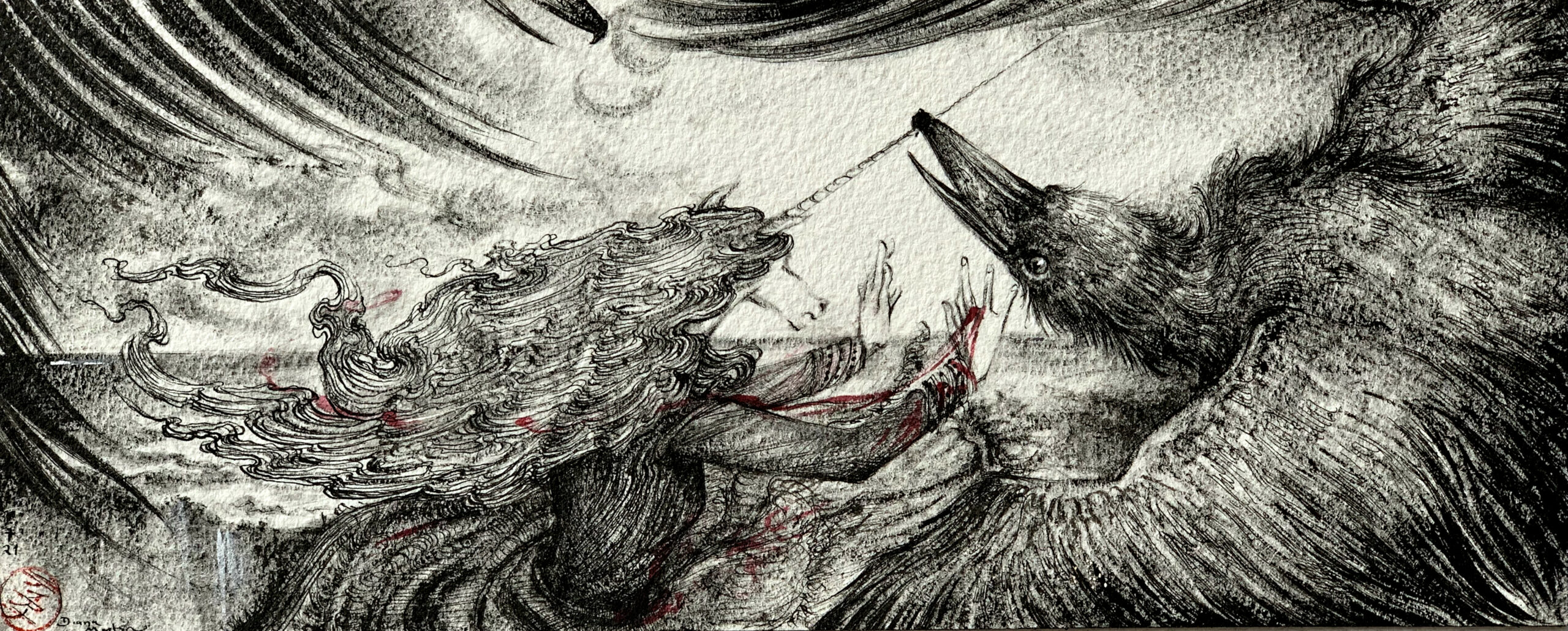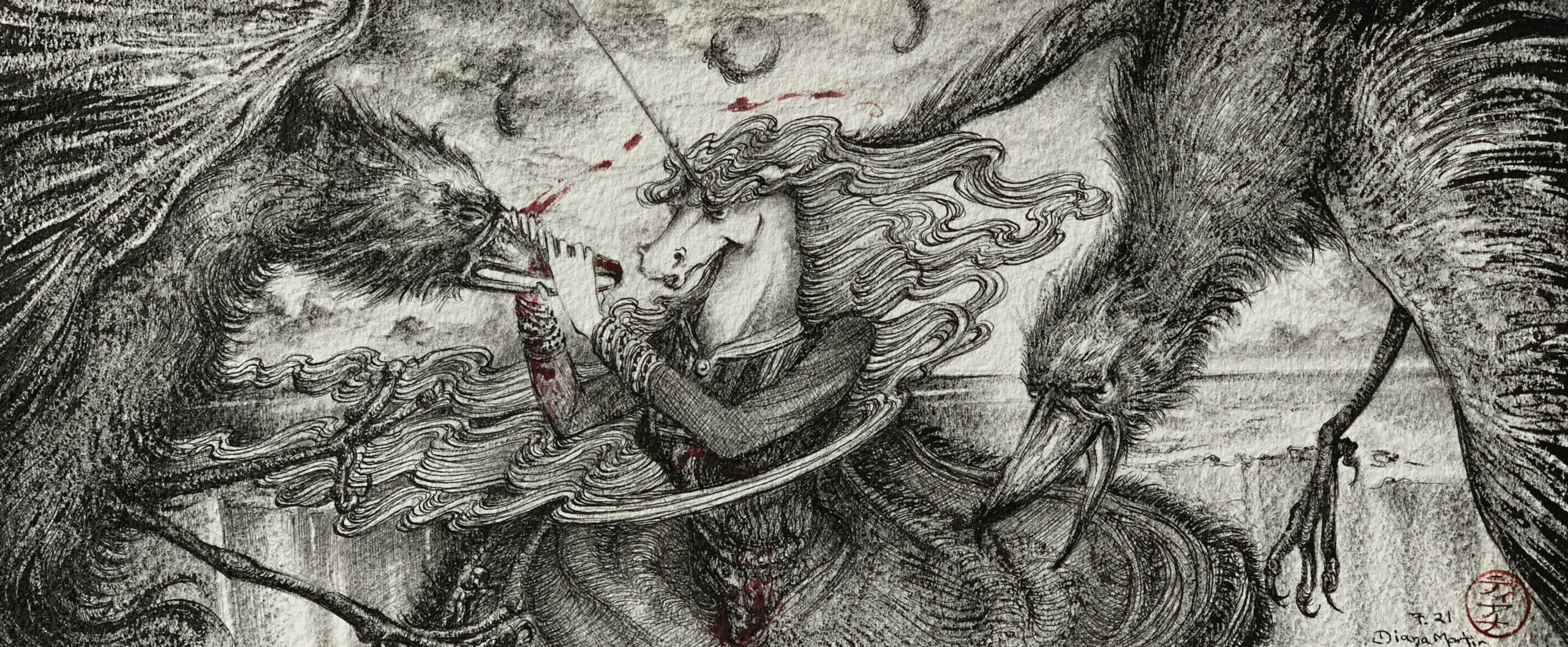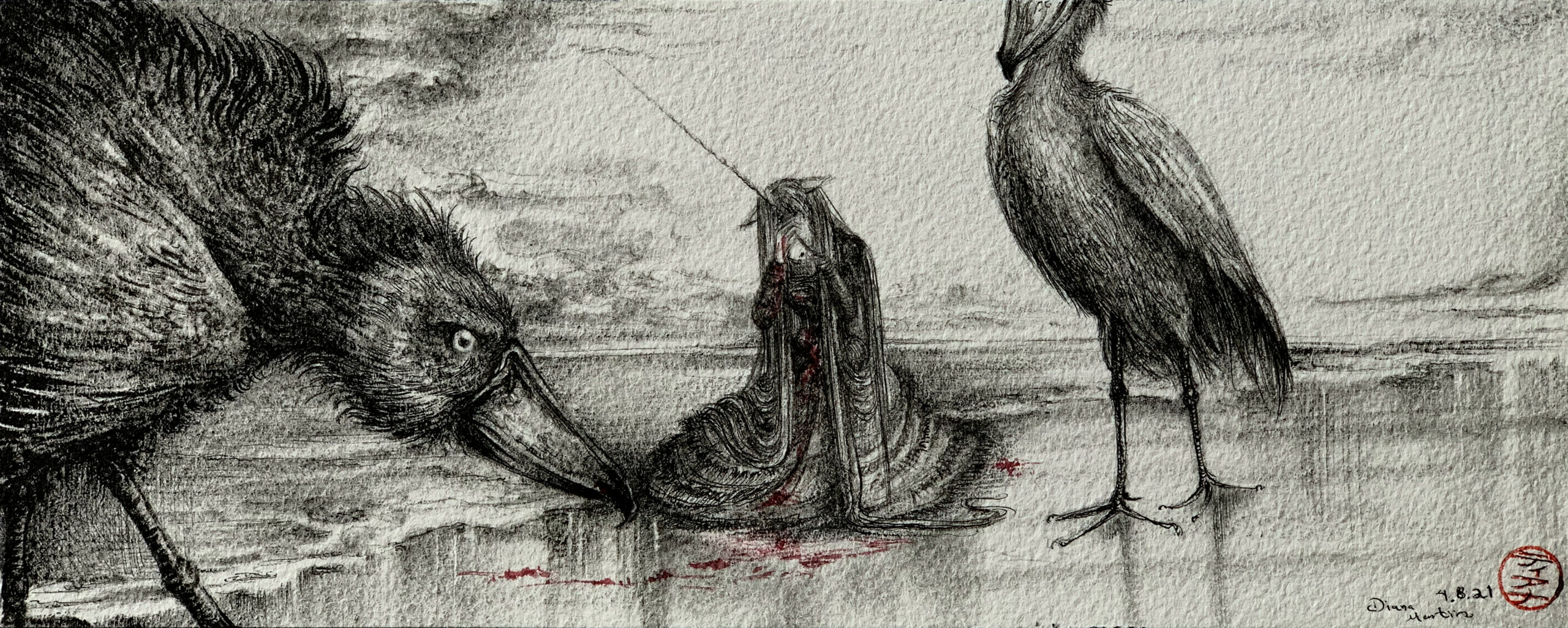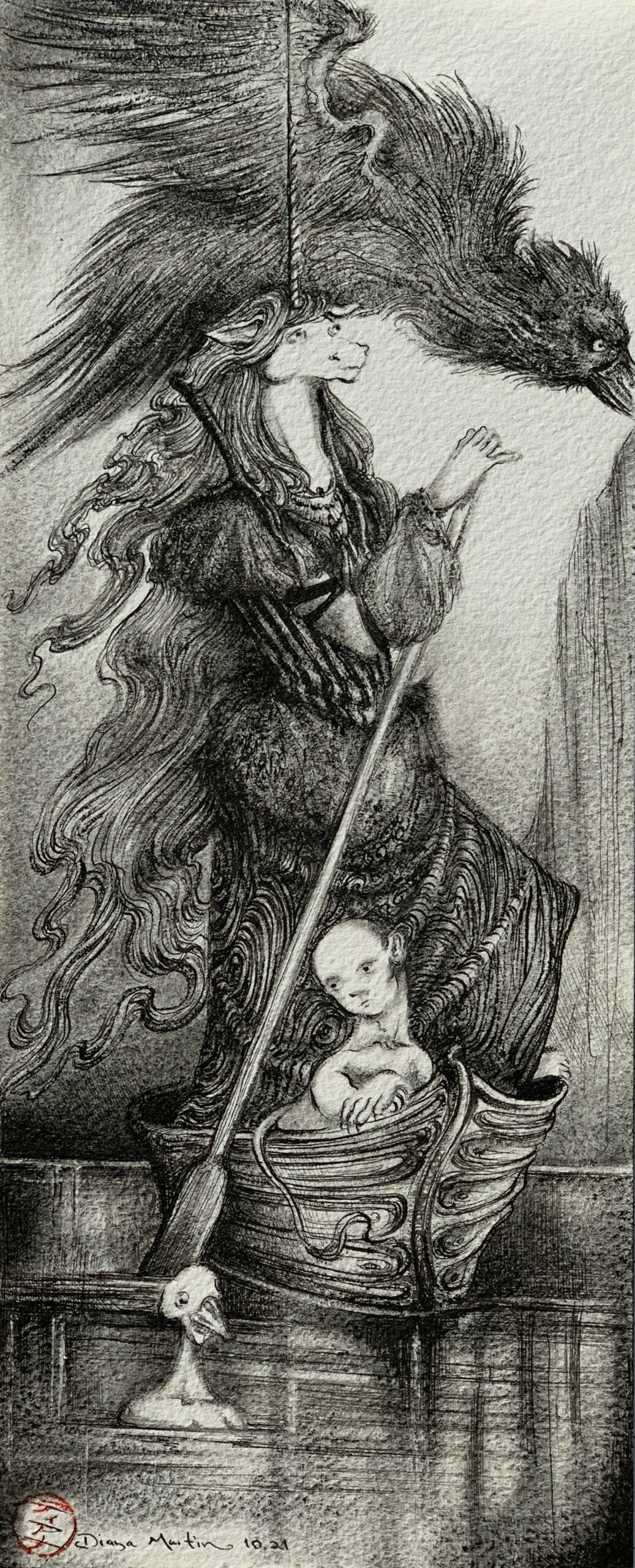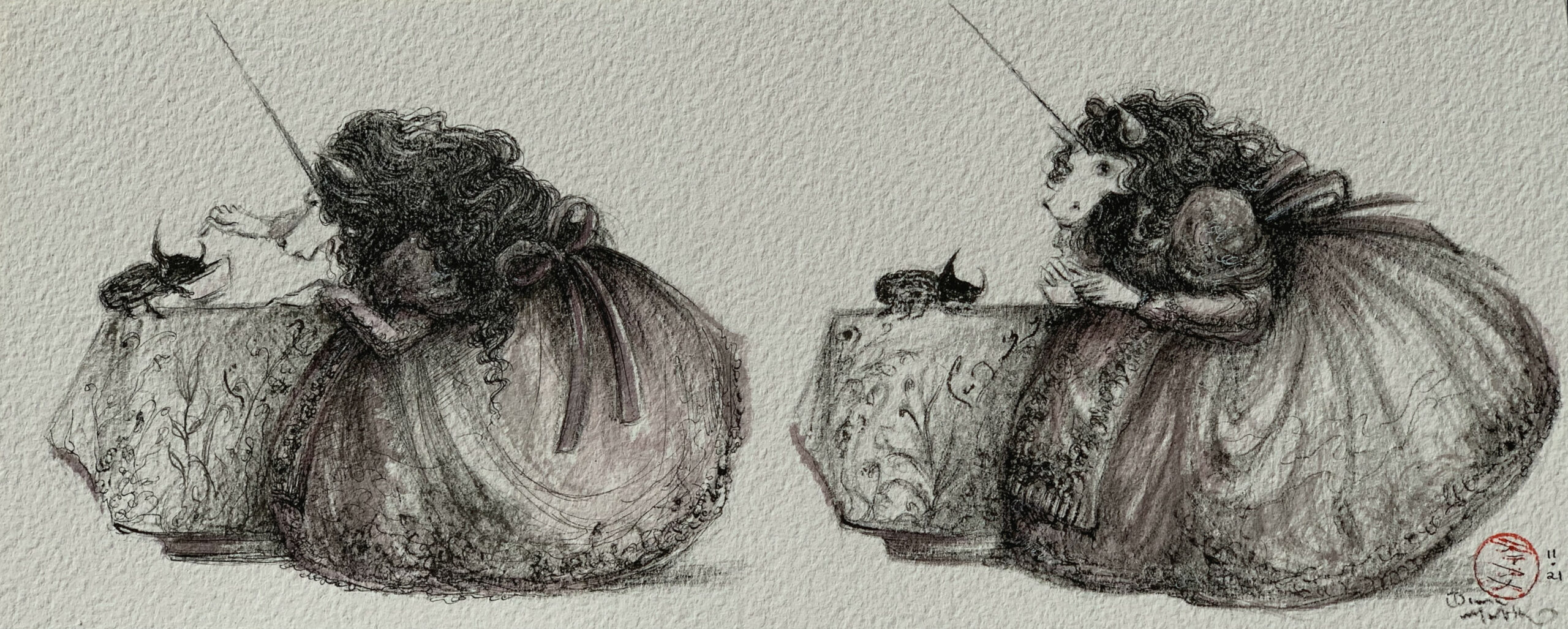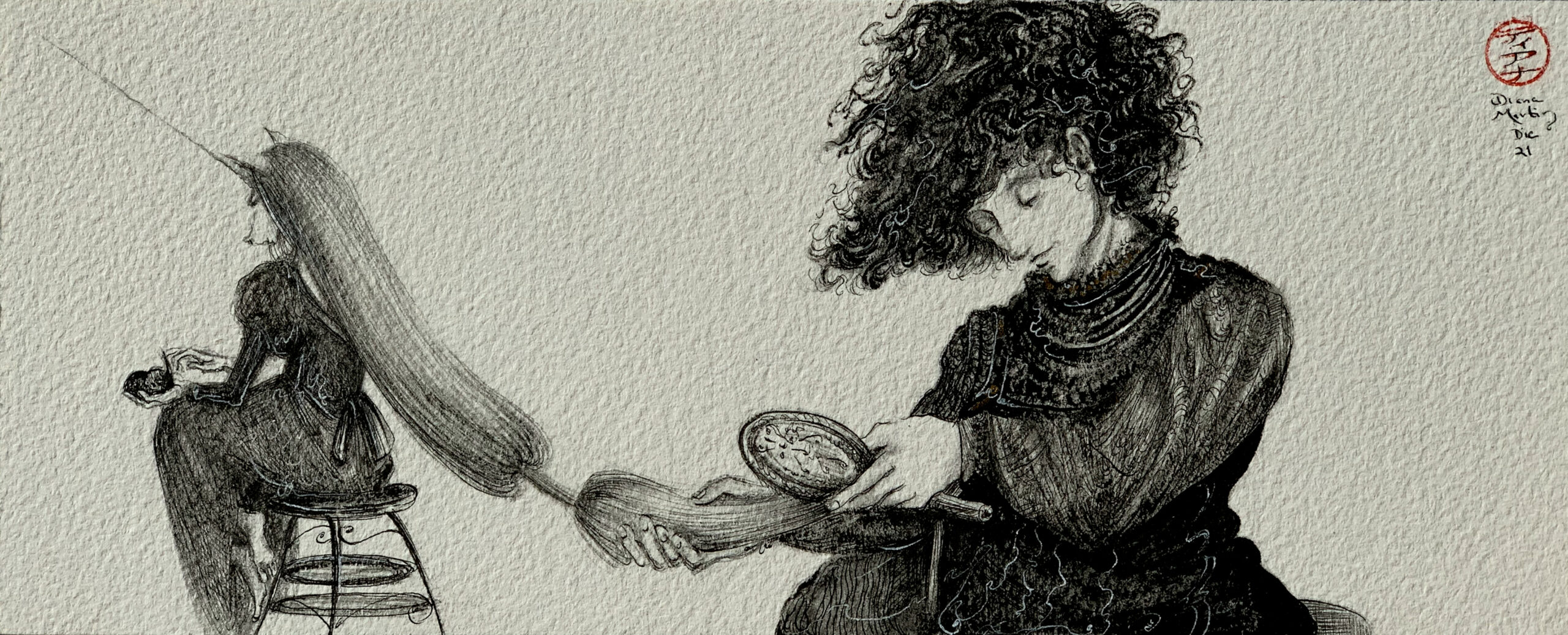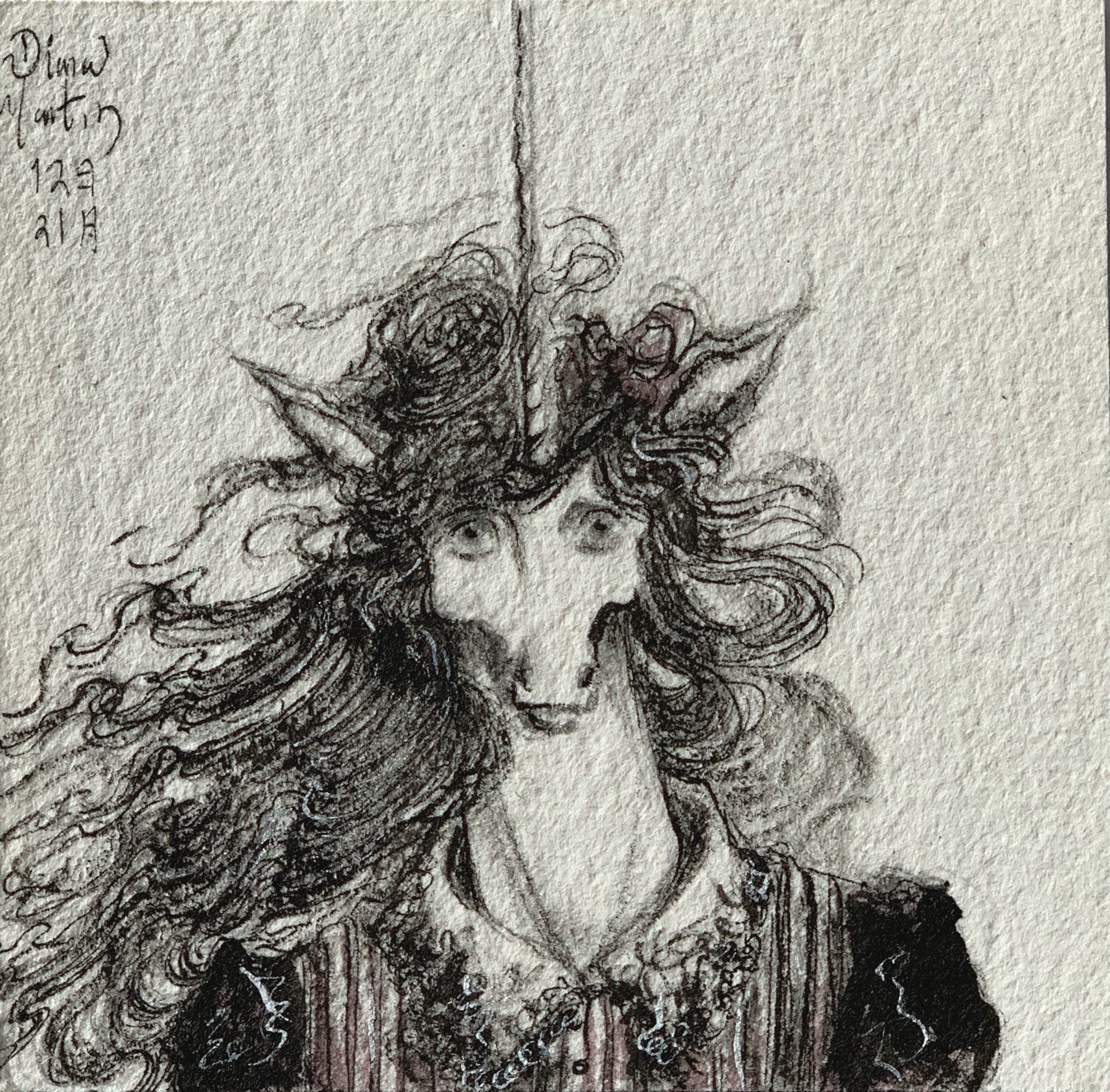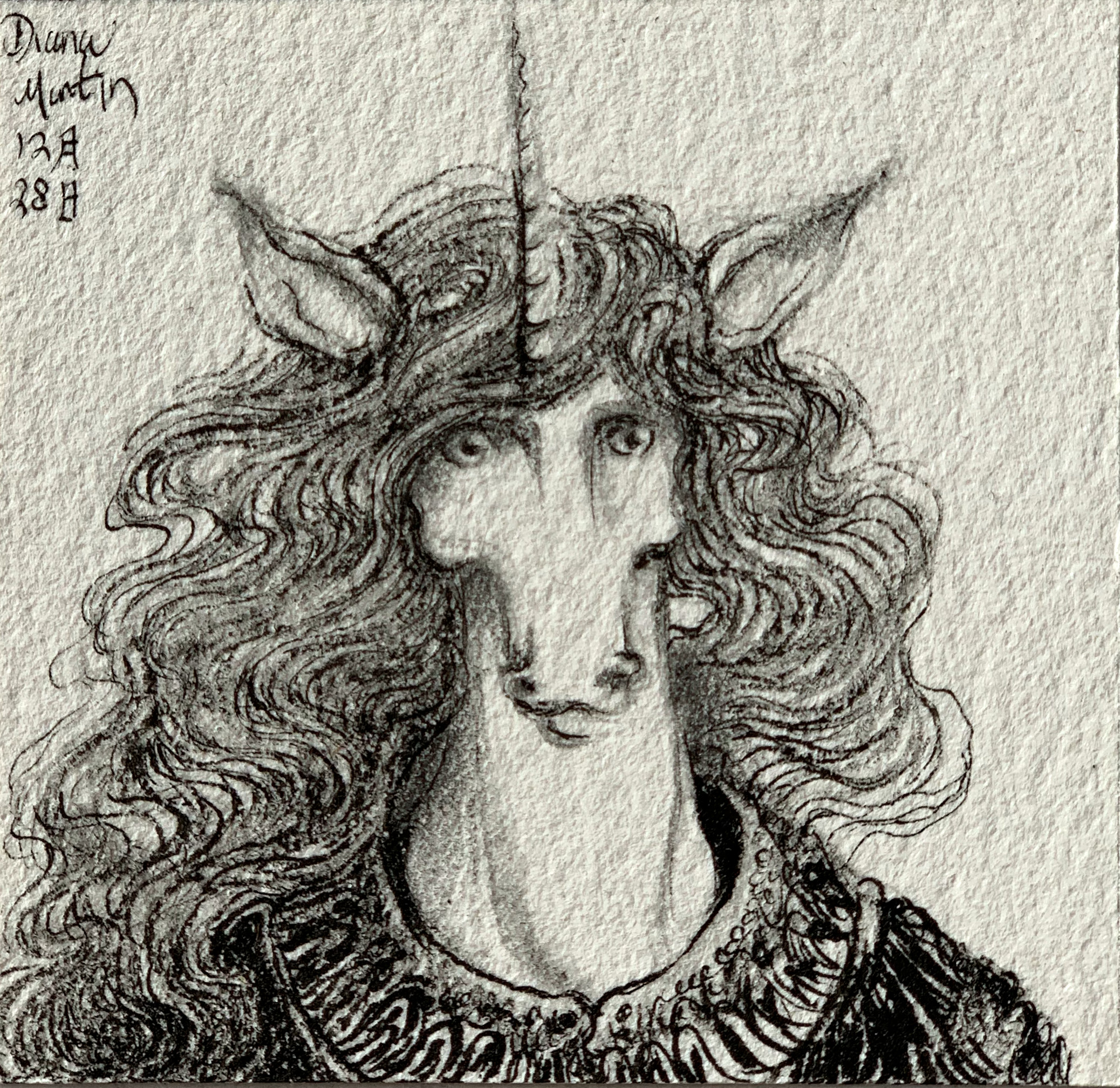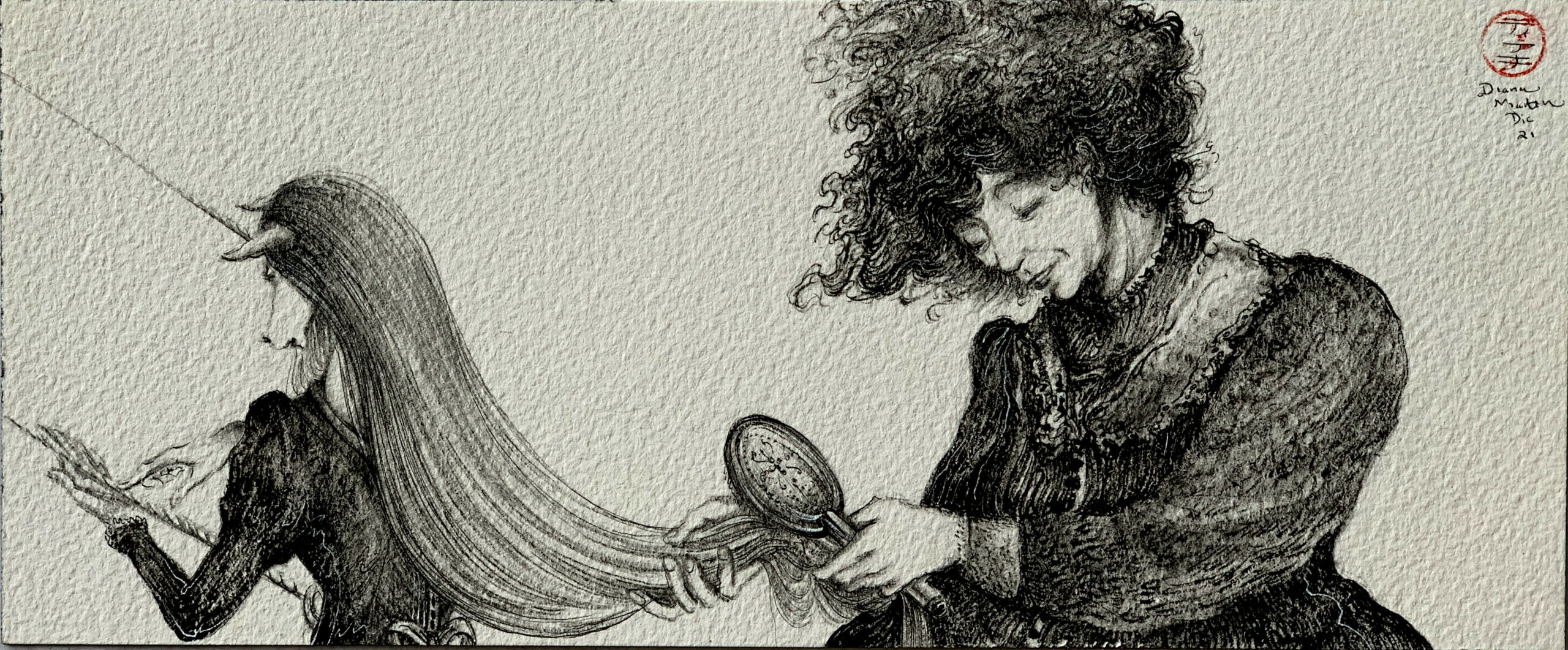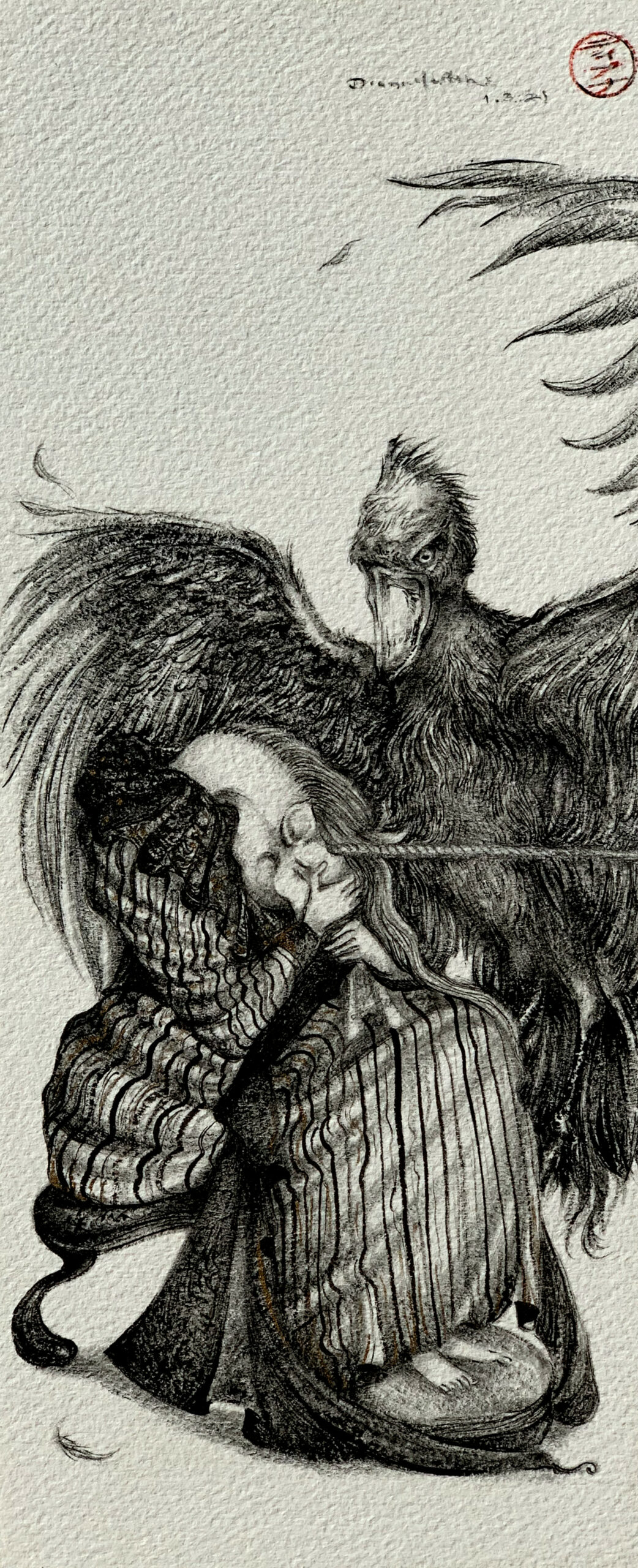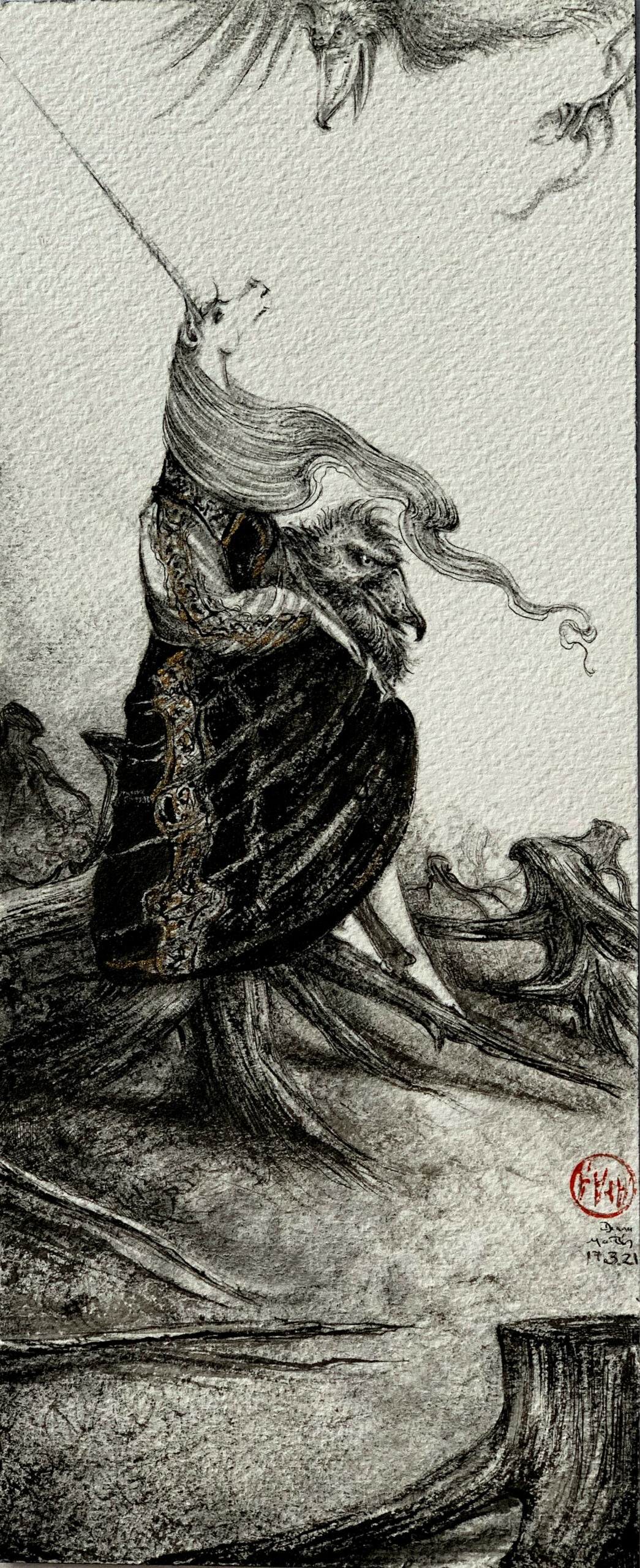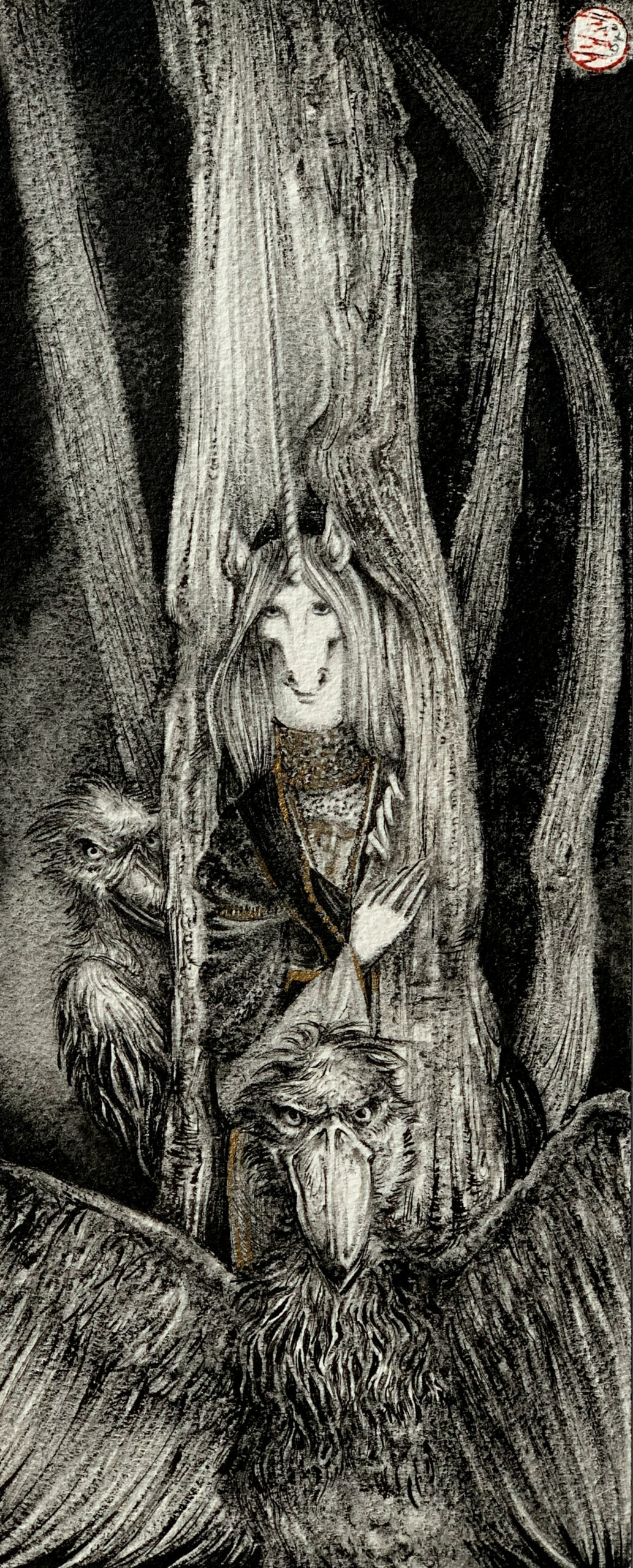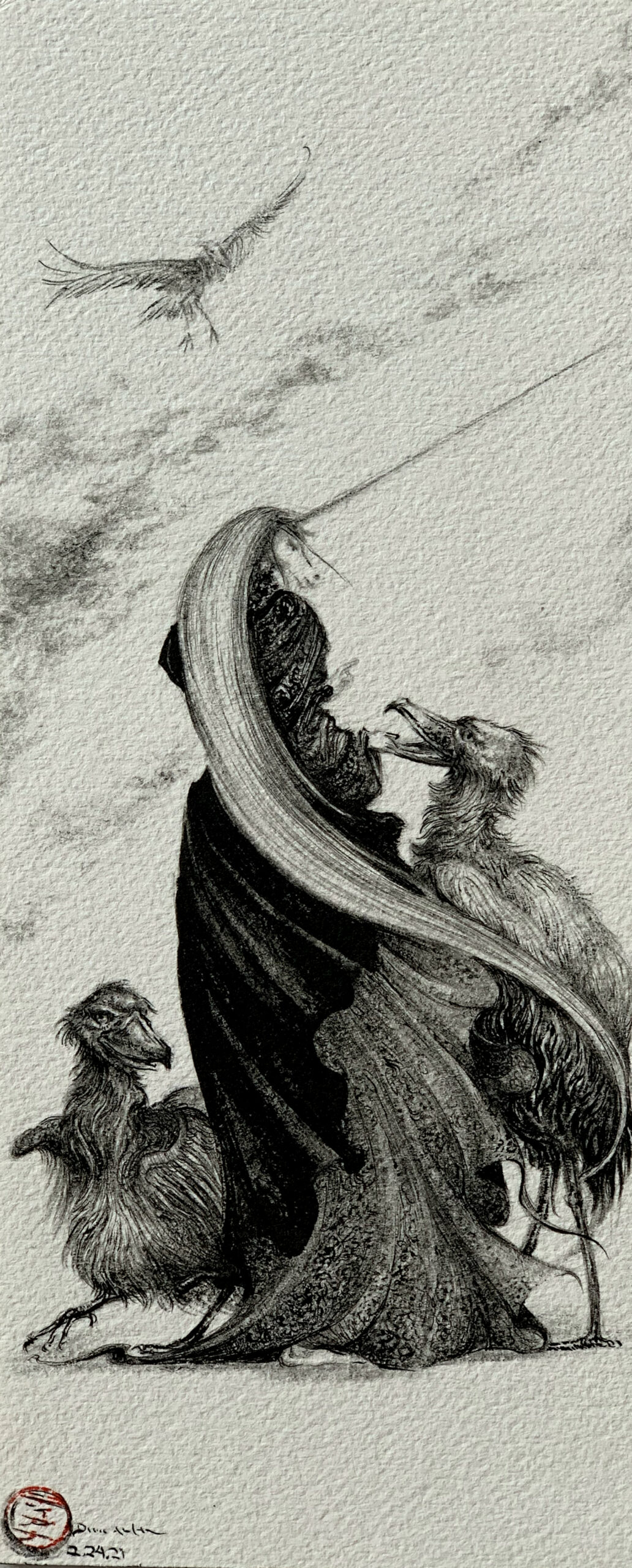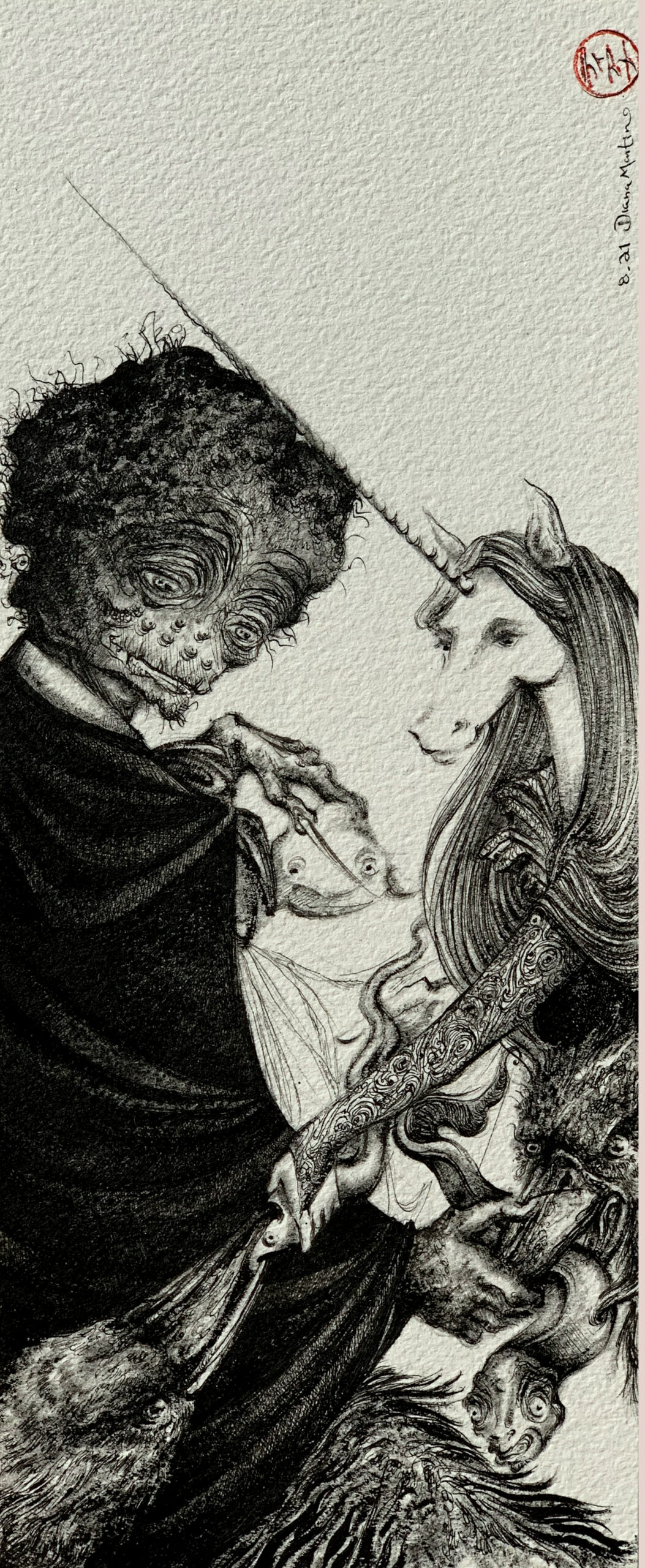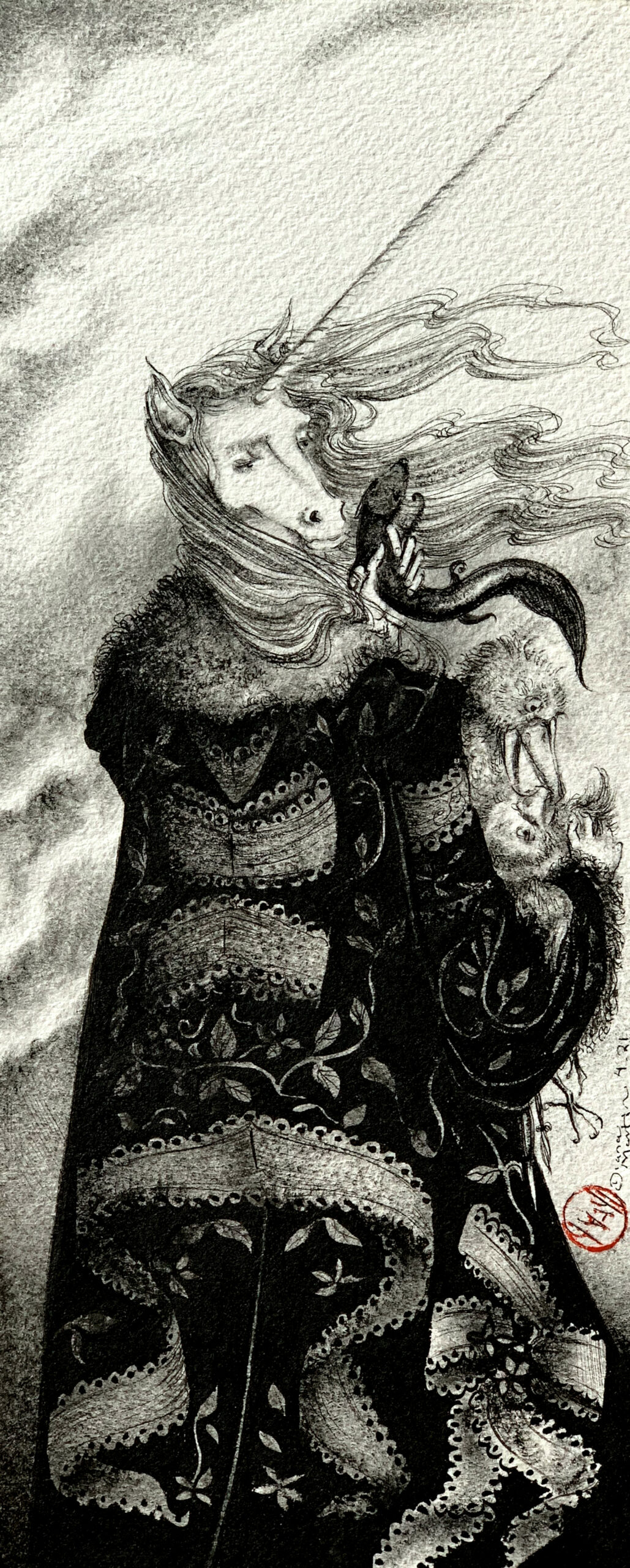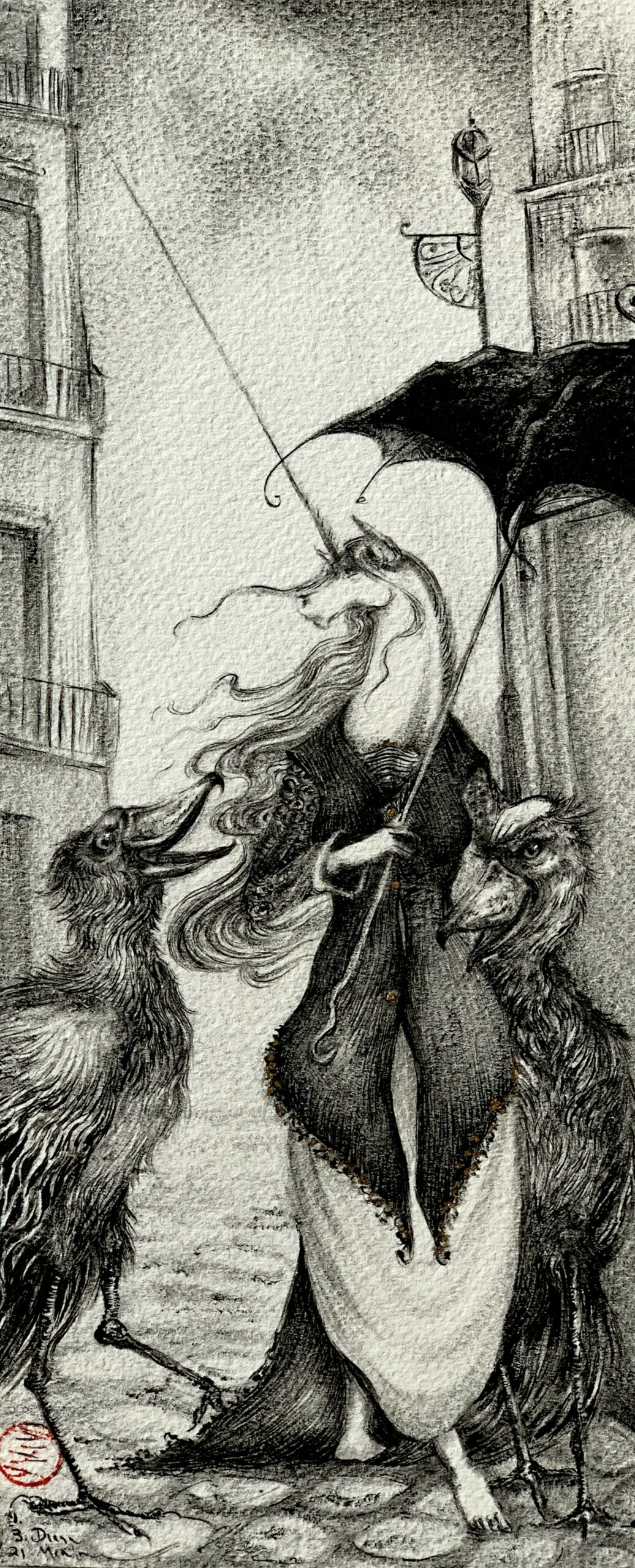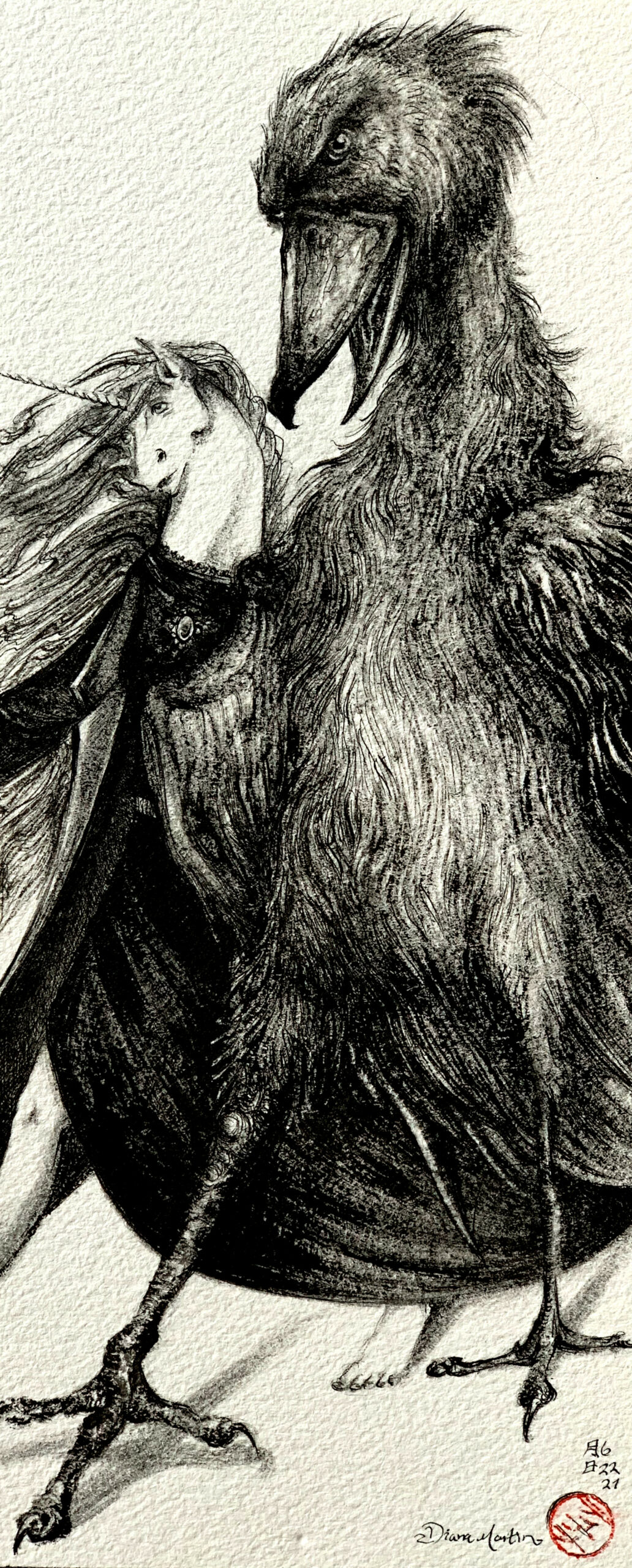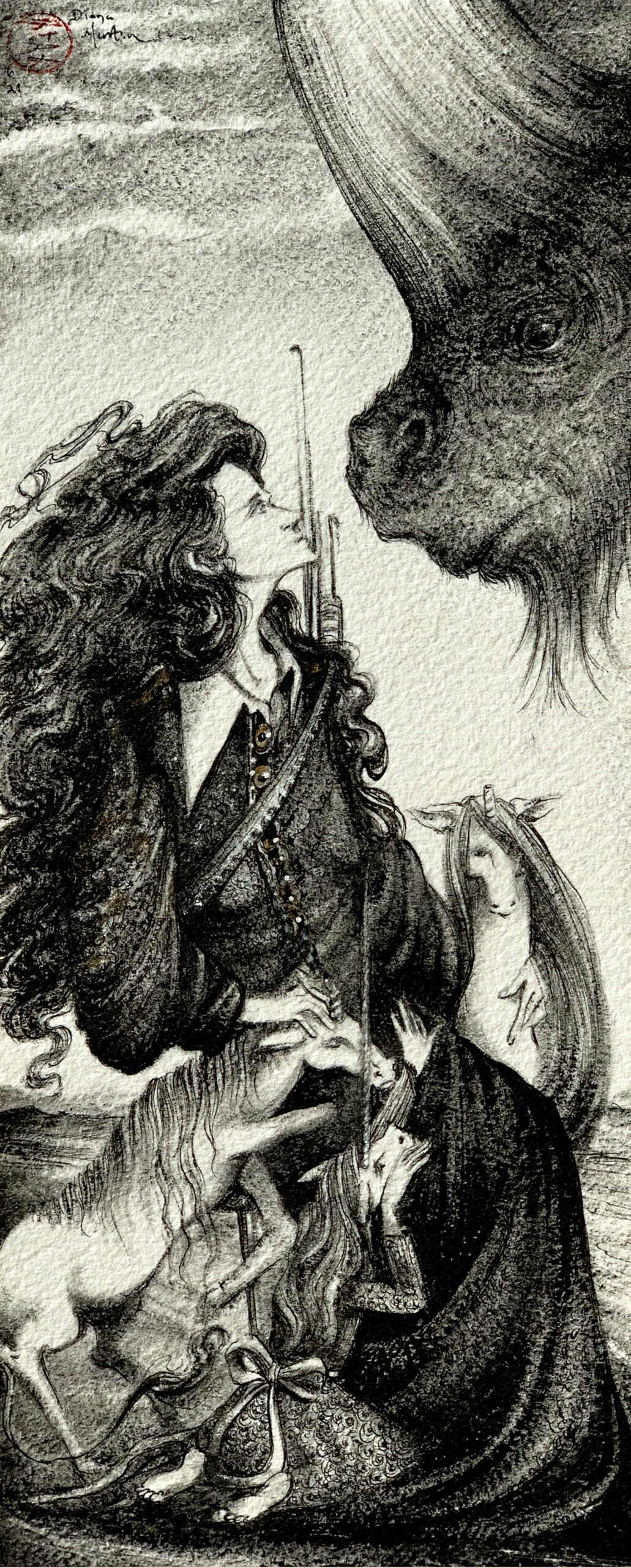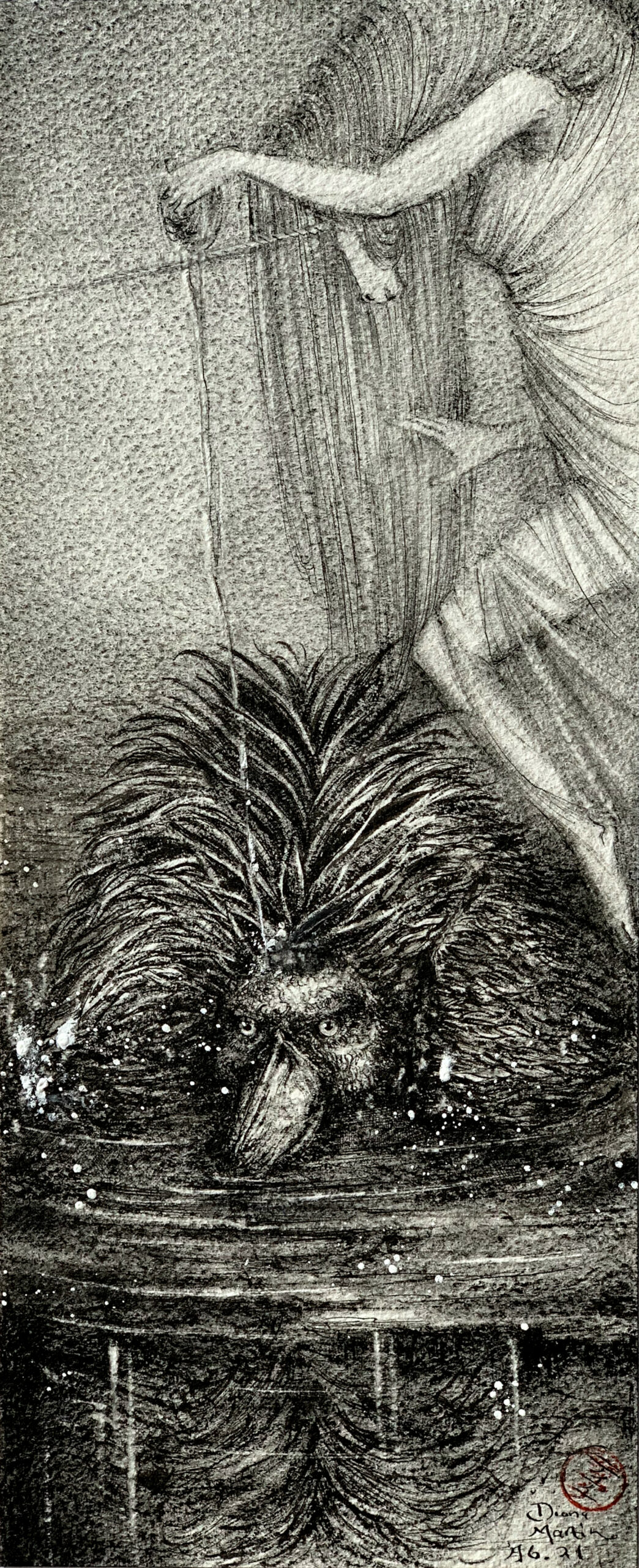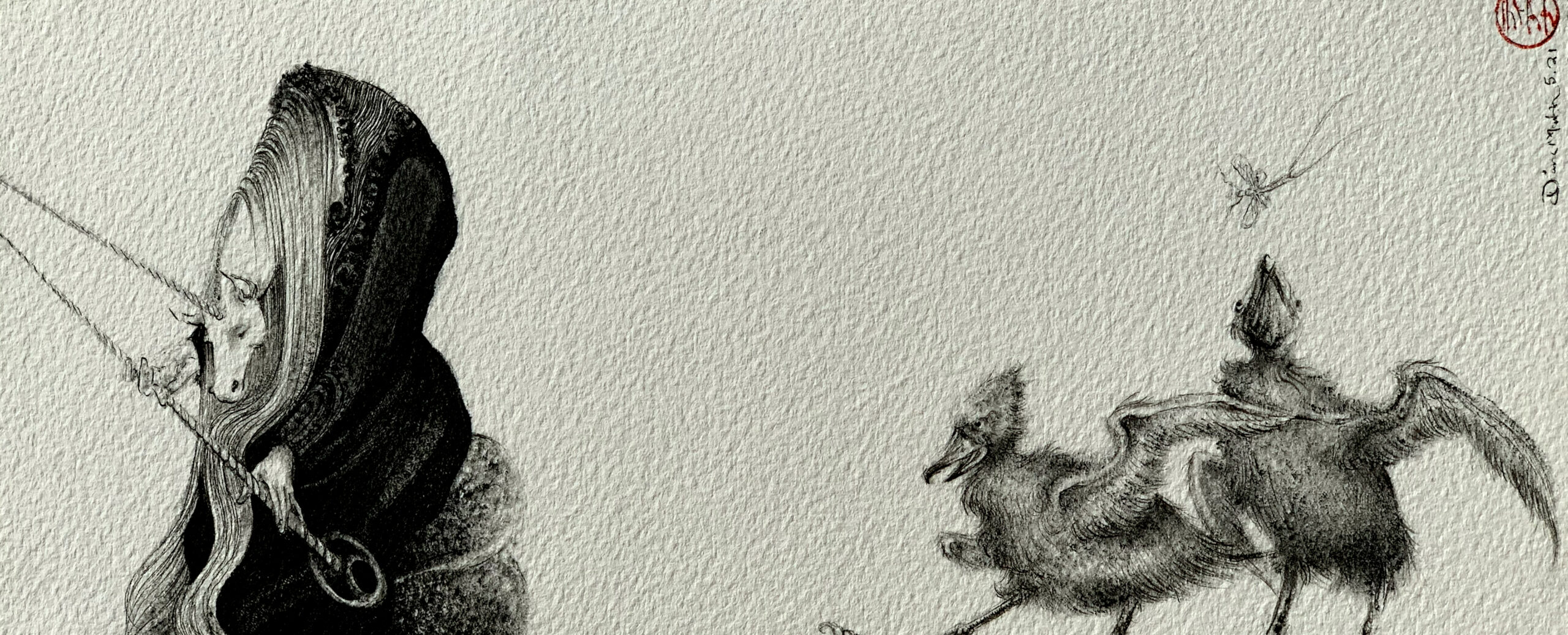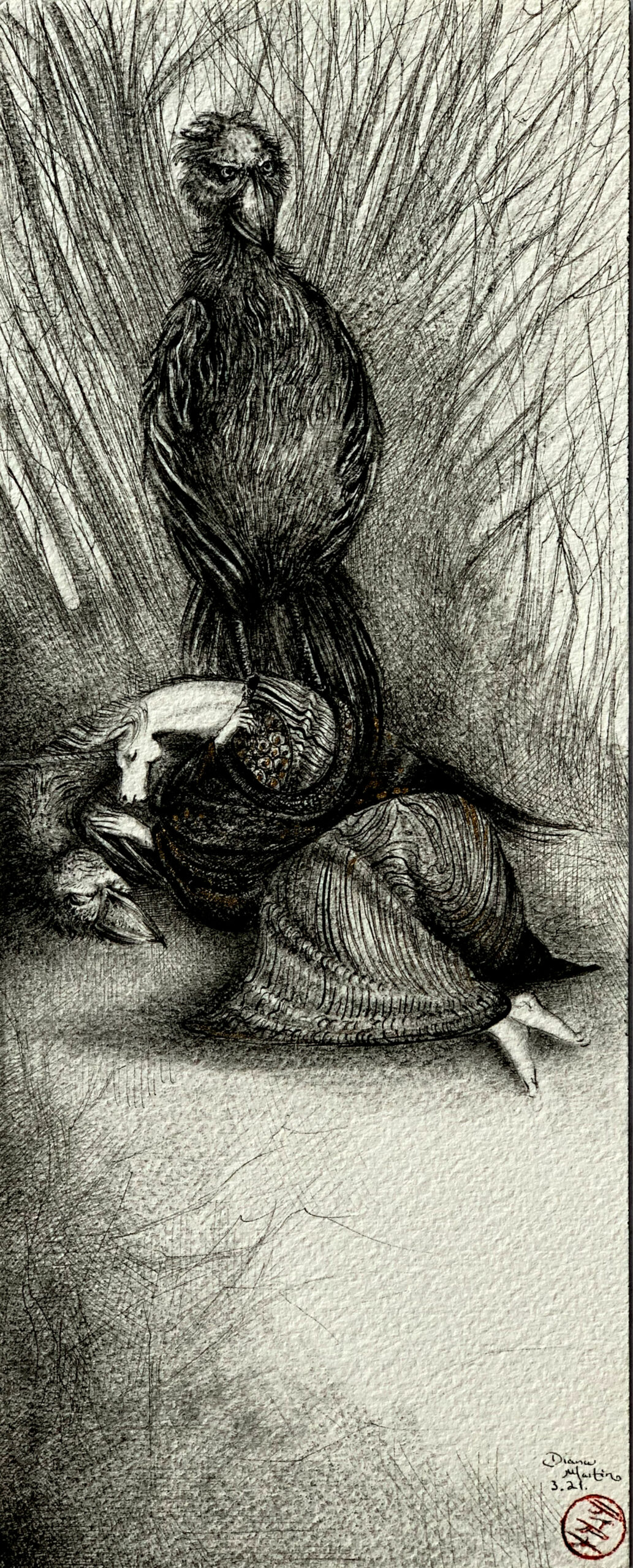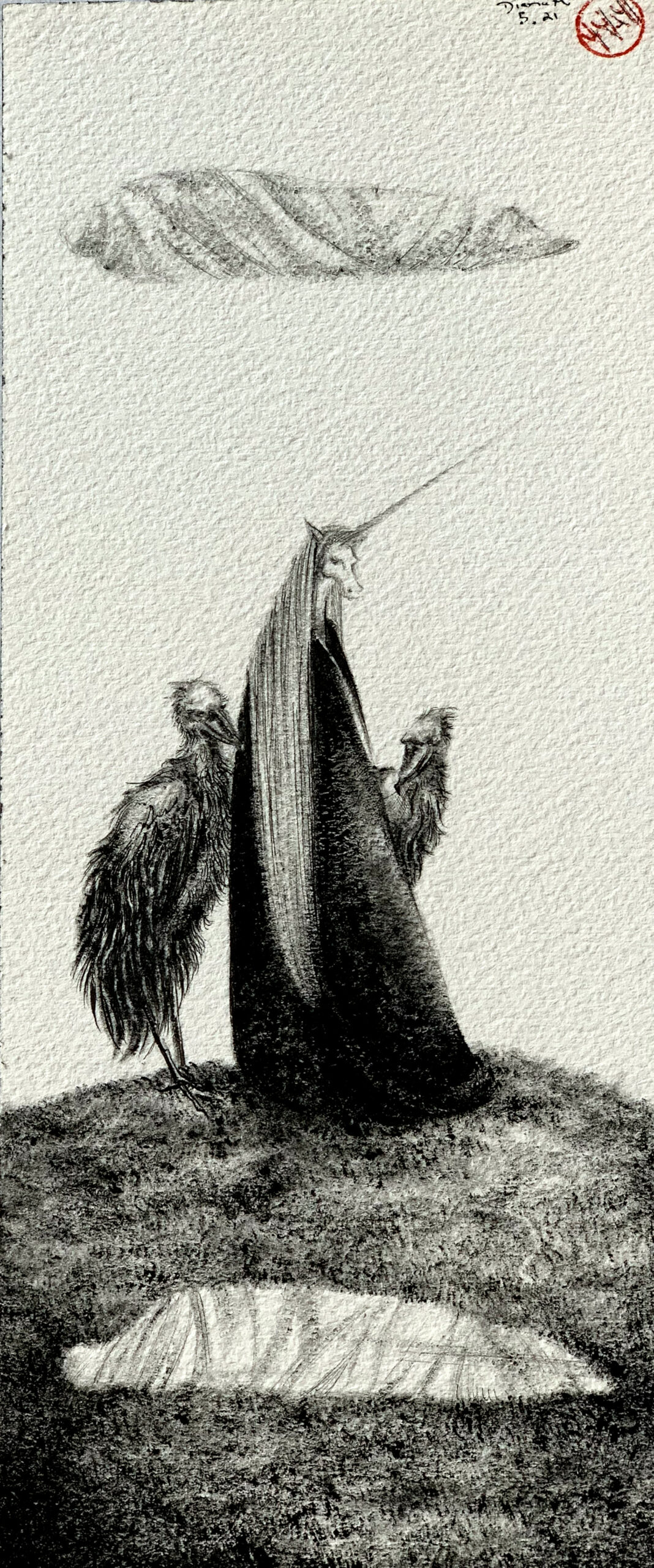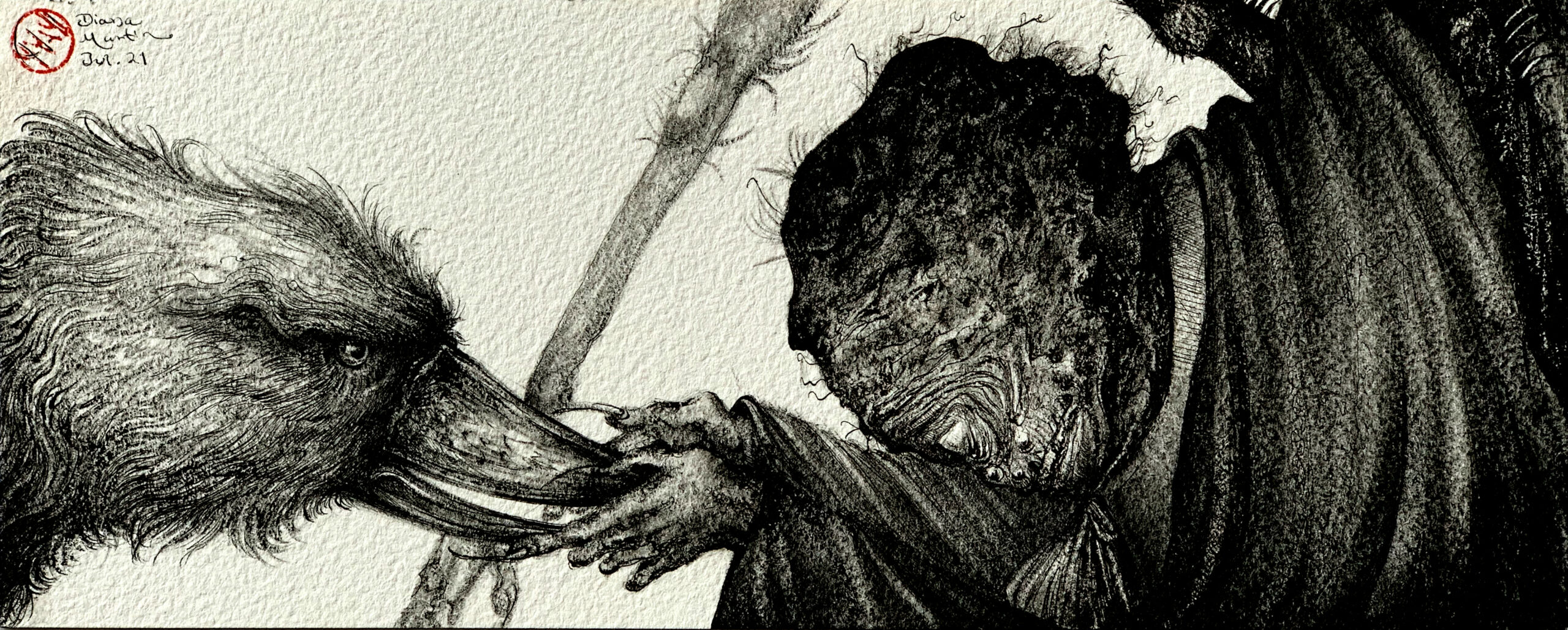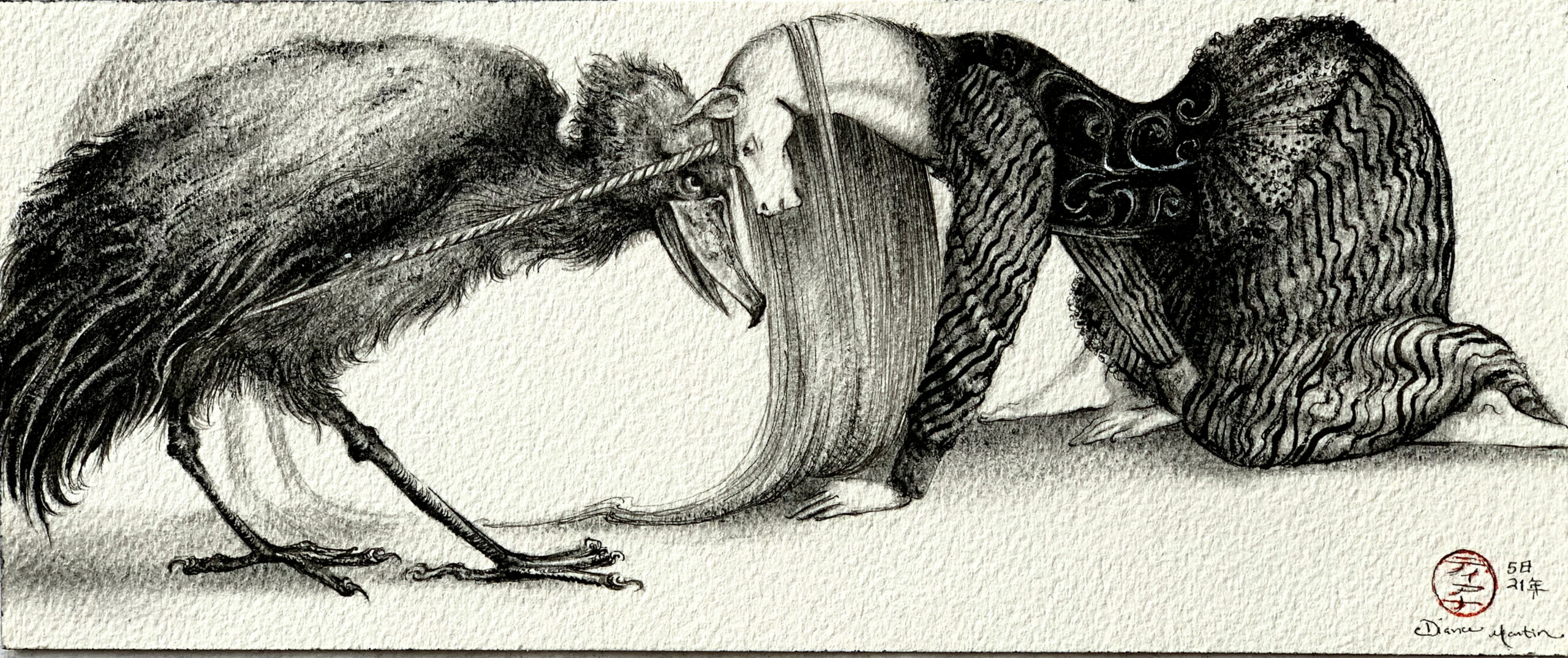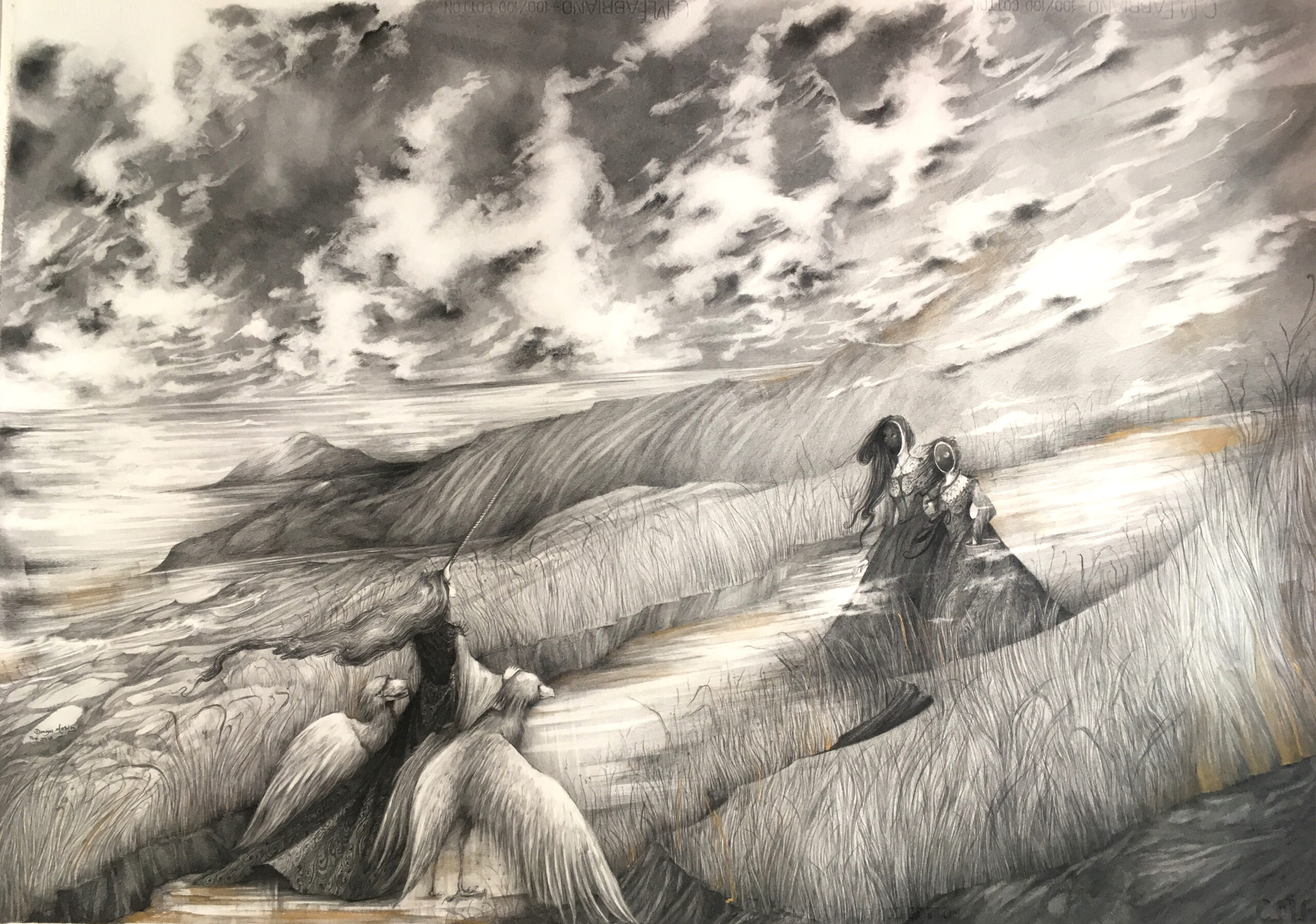 Zapopan exhibit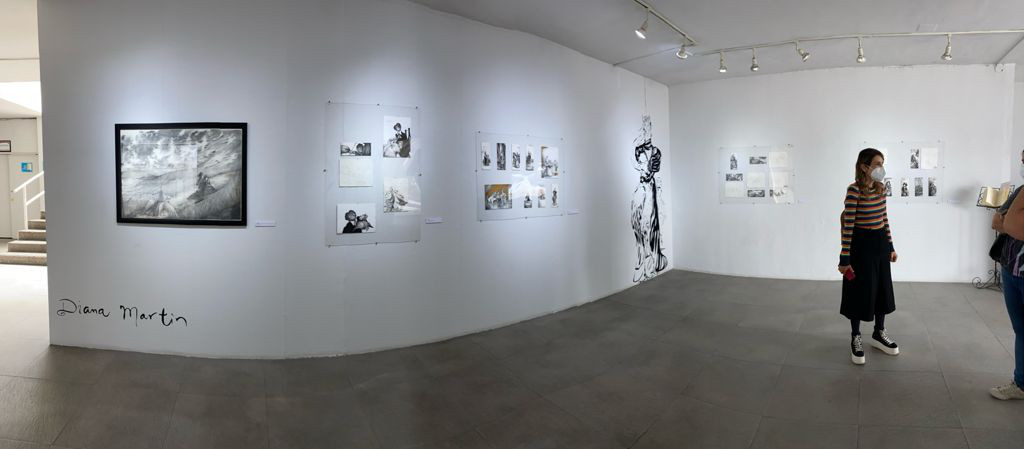 Curatorial characteristics
For "Entrelíneas, soñamos en blanco y negro", the exhibit was planned as a solo show comprised of several features in the work of the guest artist, Diana Martin, her body of work in black and white, being a graphic storyteller and having worked with Angouleme.
The artist work was curated from what we called "narrative cores": a series of drawings that museographically work as separate stories, in sets of four of five pieces, in chronological order and aided by sketches (as before and after references). As a whole, the exhibit worked like an open, willing book, to the personal and collective reading, enriching the visitor experience.
In order to establish her first contact with the public, the artist was invited to paint an in-situ mural featuring one of the protagonists of the graphic story. Also, to encourage interaction with the public, a large-scale vinyl character was placed on the walls. Many visitors enjoyed taking pictures side by side with her.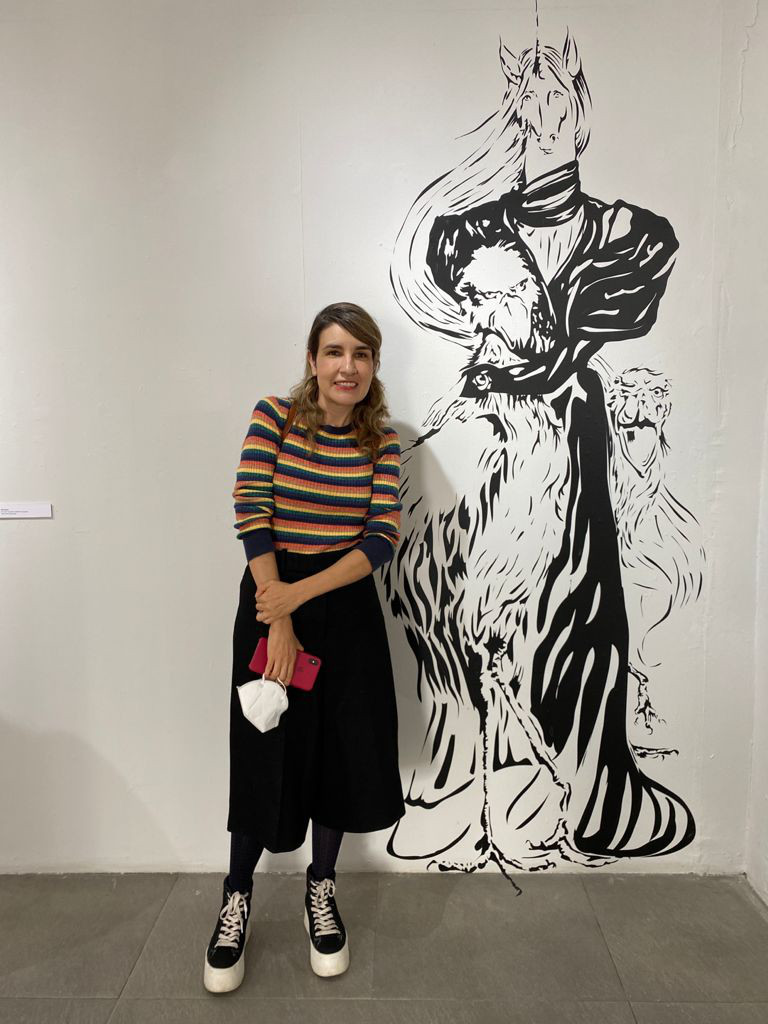 Technical specifications
Five narrative cores or 43 pieces of small format. Inks and graphite on paper (variable dimensions)
Four pieces of large format (39 x 40 in | 100 x 73 cms)
Over 80 square meters
Over 30 lineal meters of exhibition
White background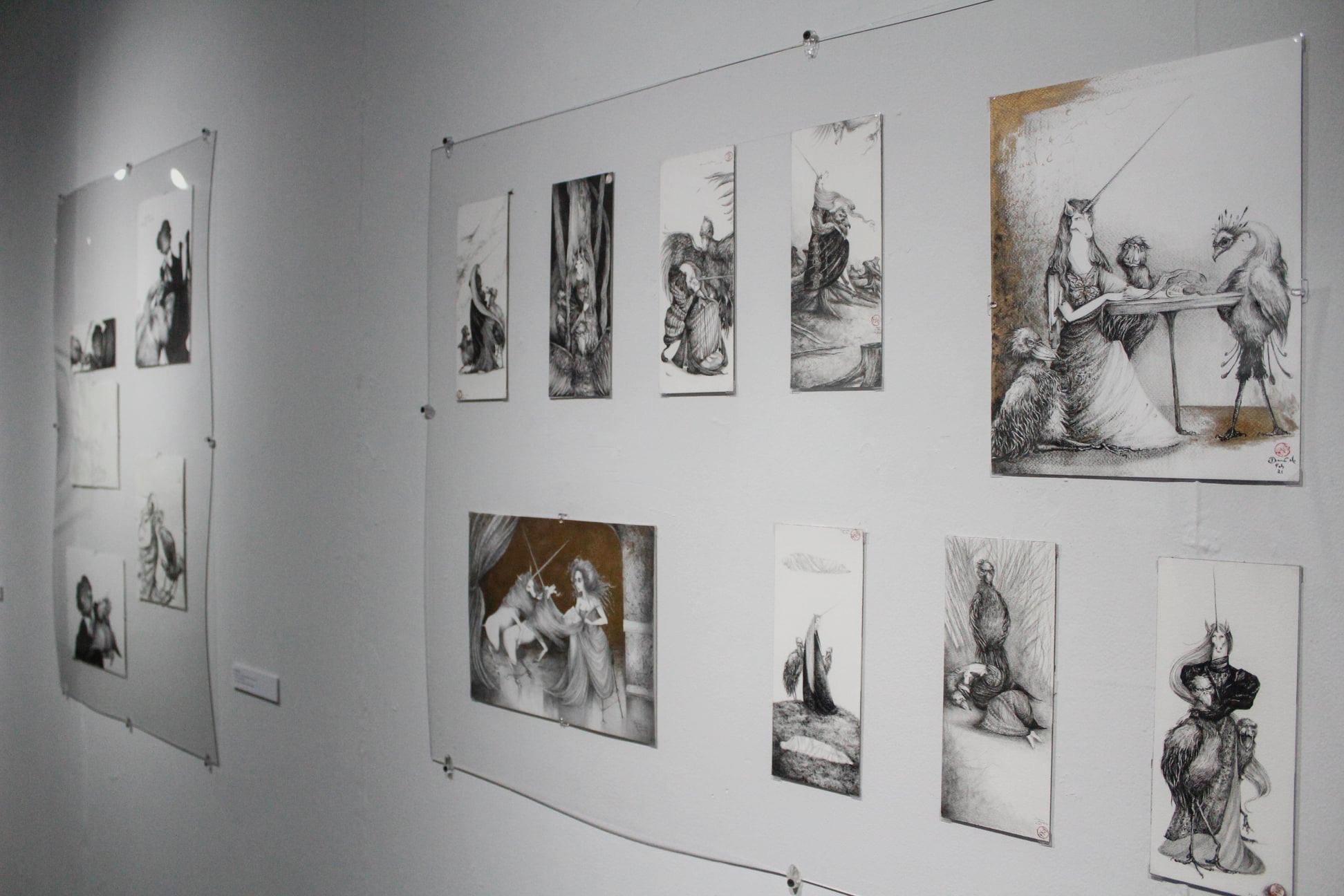 Museographic display furniture
Glass/acrylic covers measuring 39 x 40 in | 100 x 73 cms in for the narrative cores and glass/acrylic for the protection of the small pieces
Frames, glass and installation for large formats
Art supplies for the execution of the in-situ mural
Museographic Budget
The amounts portrayed here can vary according to the country and city the exhibit is held in. Prices exclude taxes.
Rigid acrylic sheets: $250 USD.
Decorative vinyls (character and signature): $150 USD.
Gallery text with logos: $150 USD.
Framing of two large format pieces: $150 USD.
Supplies used to mount the small format pieces to the wall: $75 USD.
Activities held around the exhibit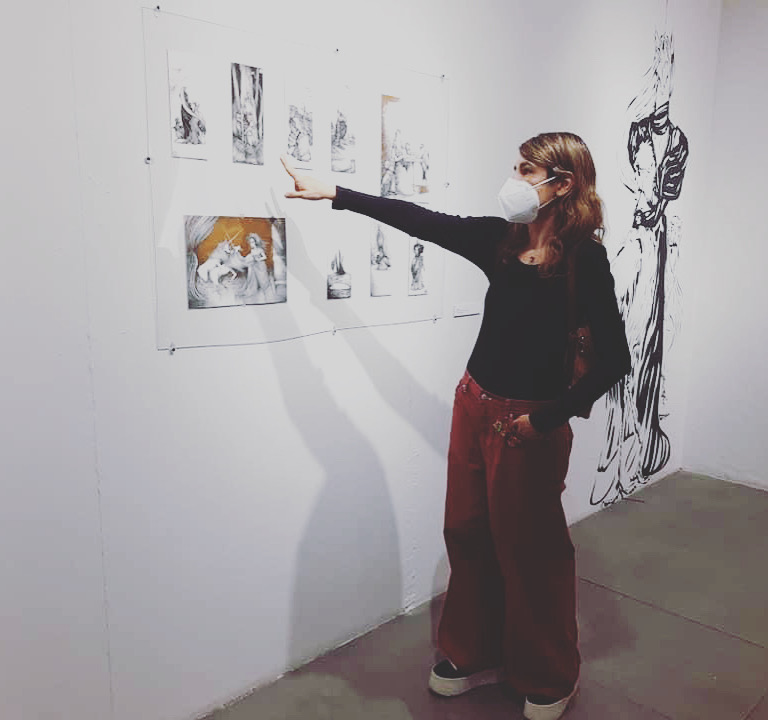 Guided visits by the artist herself were offered for small groups with prior reservation to good attendance, enriching the audience's experience by explaining the the story, meaning, symbolisms, technique and characters of each individual piece. She also answered questions and engaged in meaningful conversation around her work.
Live readings of passages from "Serafina y el Ardid Insondable" were held in the same guided visit session.
Workshop/conversation around character creation and basic tips for drawing with ink and brush were offered as well.
Virtual visit in 4K at the YouTube Channel also available.
Promotion and advertising
Press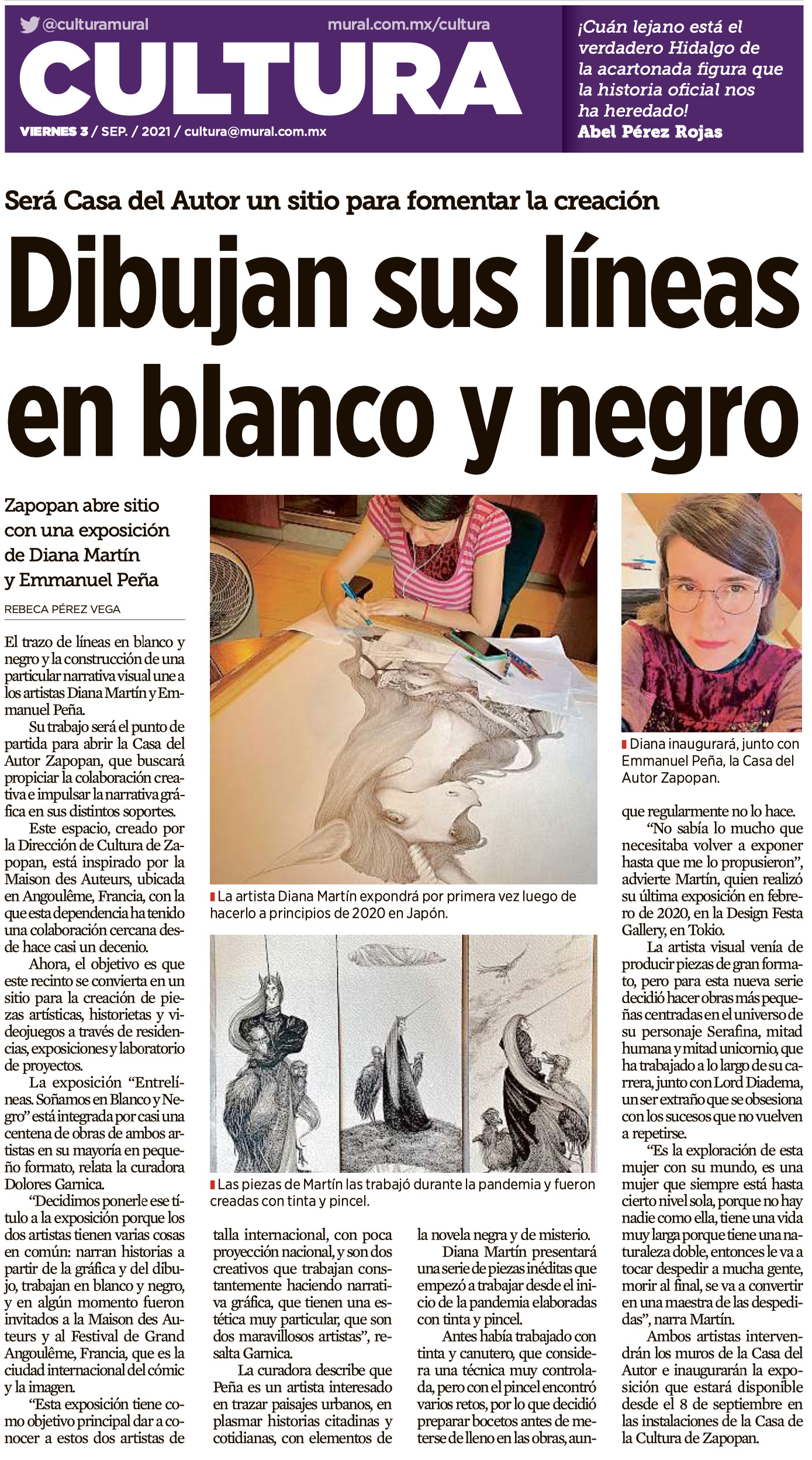 Zapopan exhibit credits
Gerardo Asencio, Head Director of Zapopan Culture Department
José Luis Coronado, Director of Heritage of the Zapopan Culture Department
Dolores Garnica, Curator
Past exhibits gallery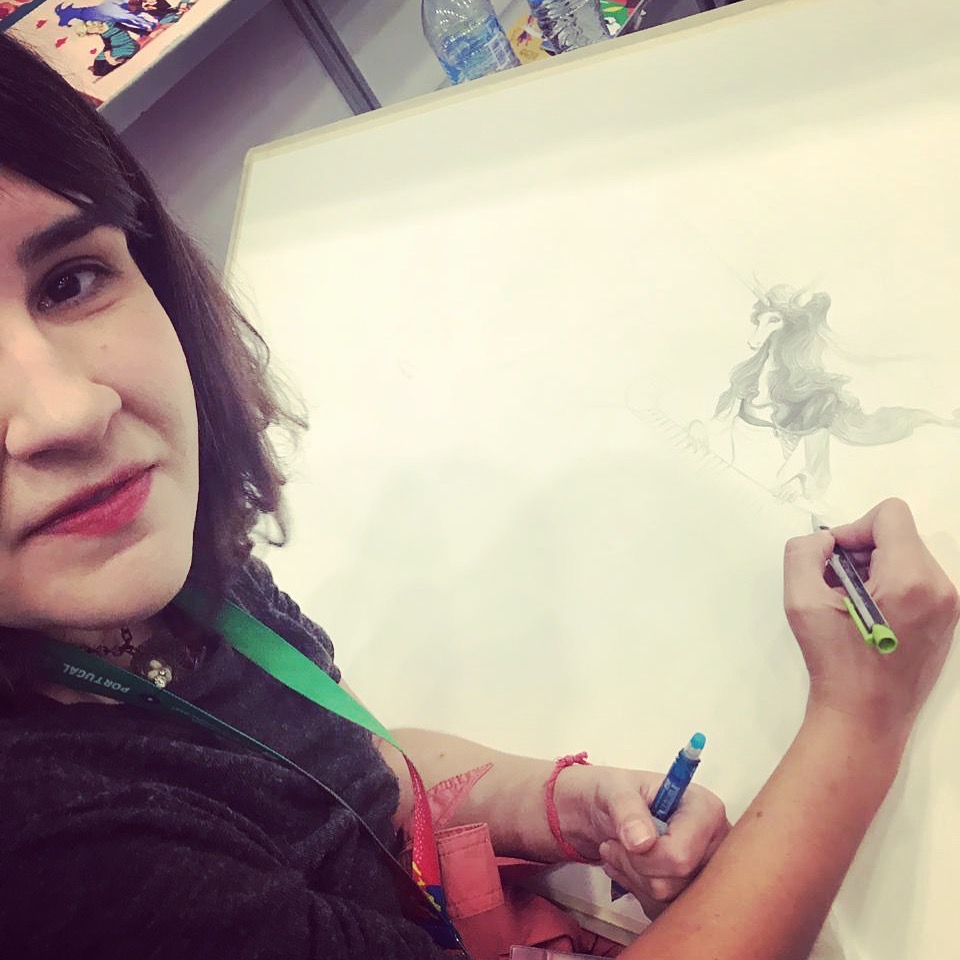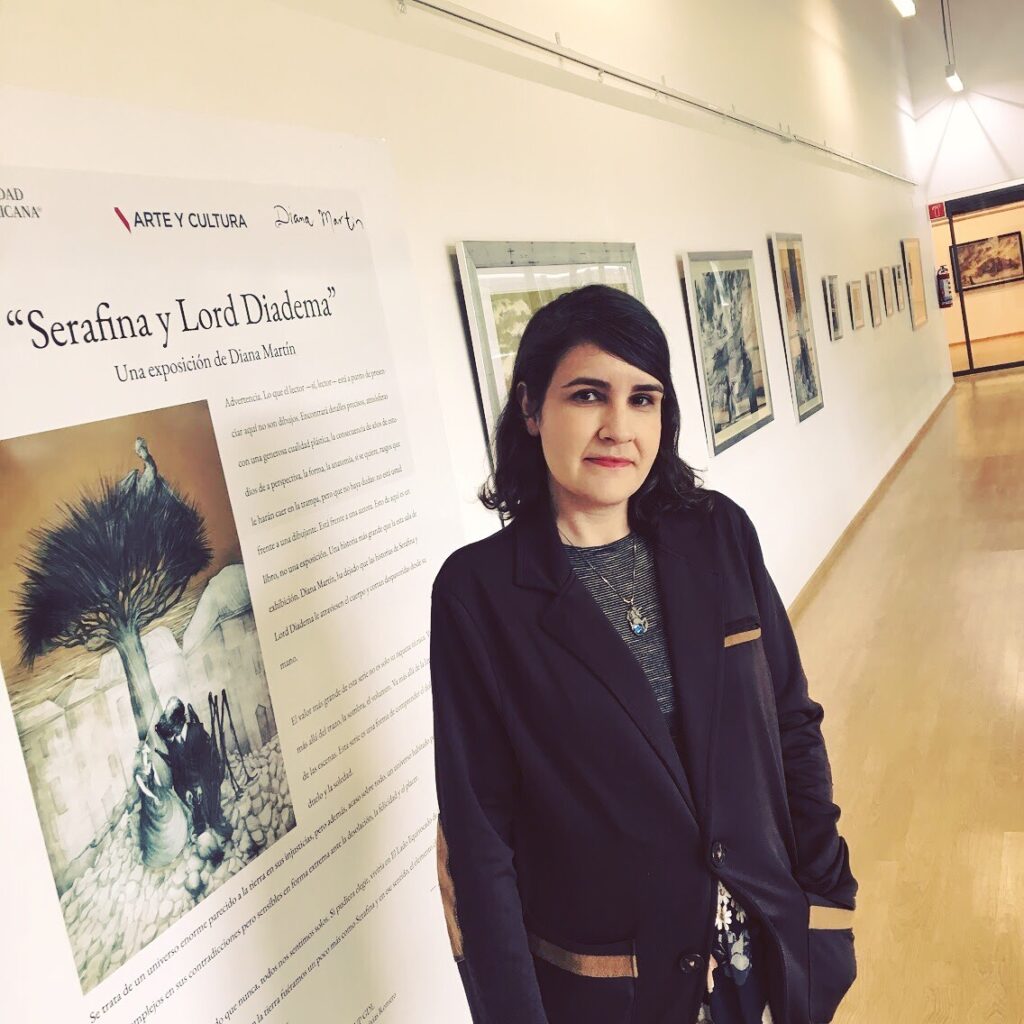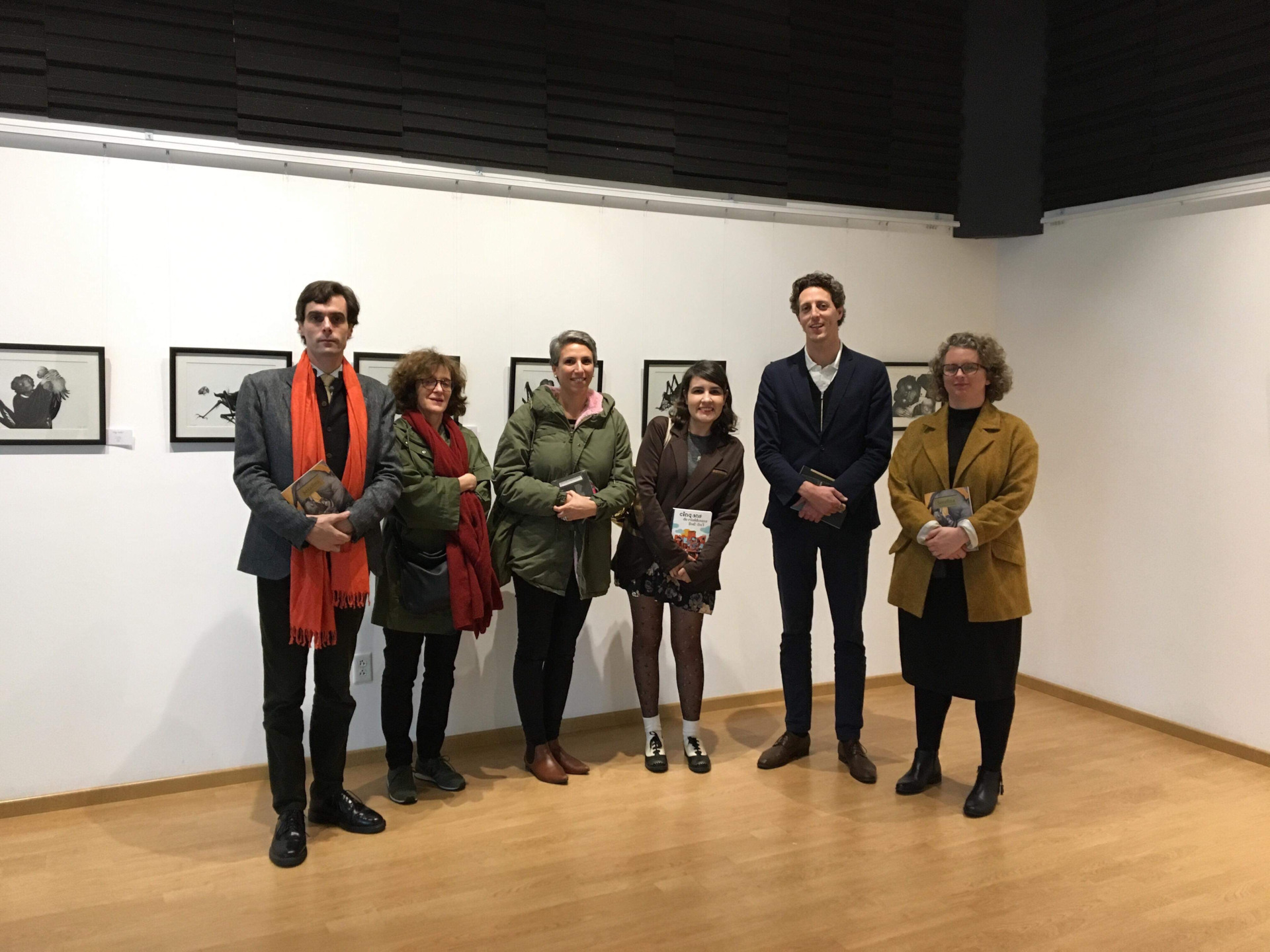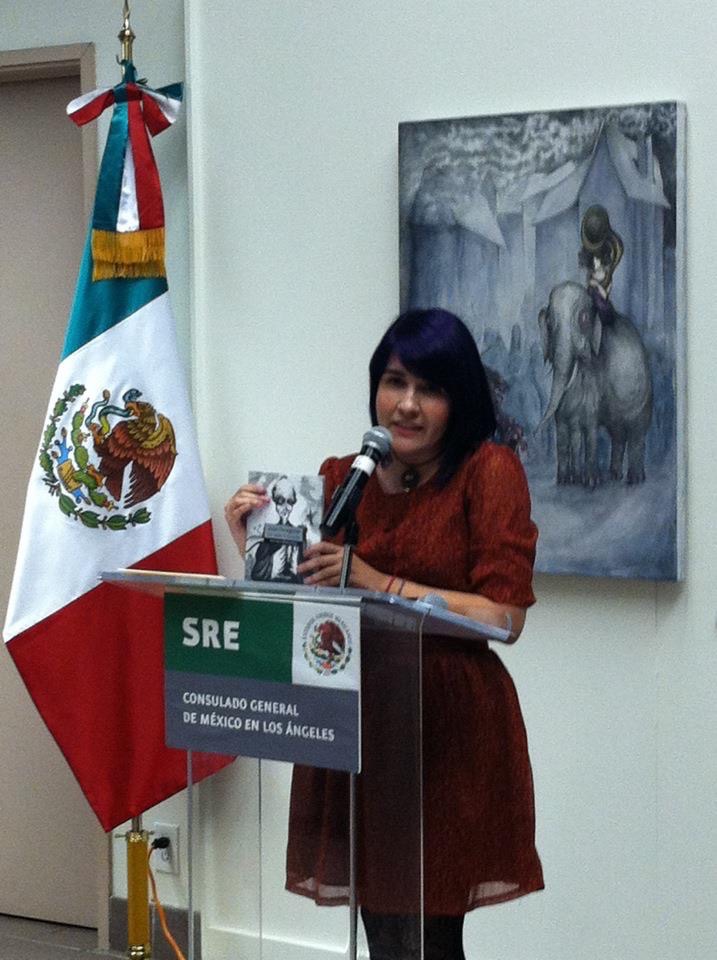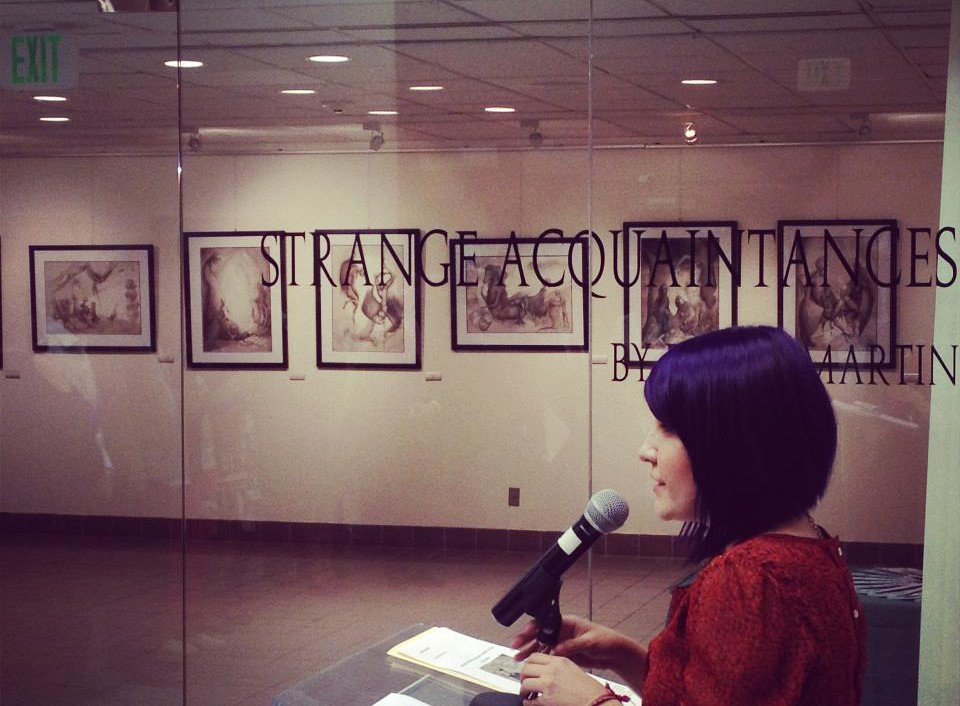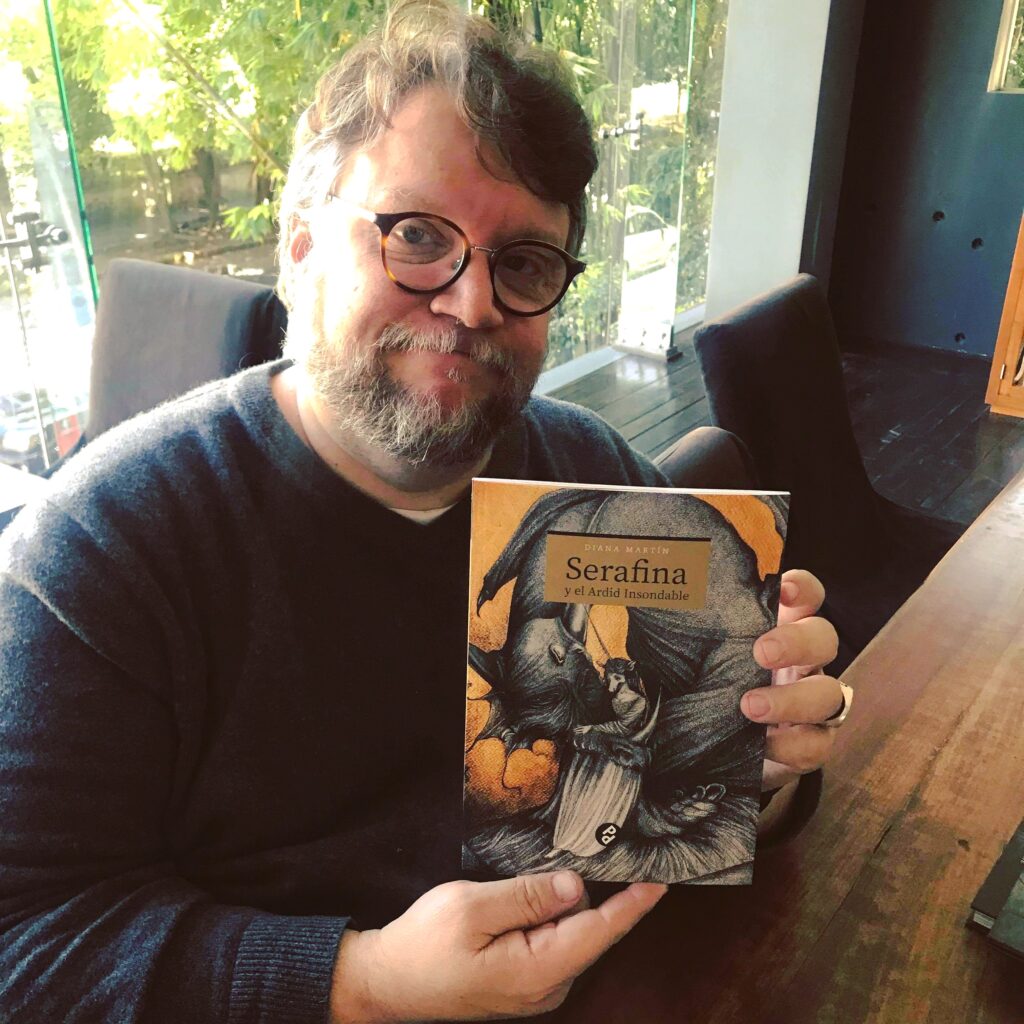 Host The Unrepeatable in a Museum
The journey of Serafina and her shoebills is only but beginning. It started in the artist's hometown, spreading its wings to reach broader audiences around the world. This is a presentation aims to take it, like Serafina does in her story, across the ocean, to be seen by many eyes and felt by many hearts who love the art of draughtsmanship and narrative.
The fabric of this story continues to be sewn by the author, who is still drawing pieces for this series, yet the number of pieces to be exhibited can be adjusted according to the needs of the curatorial criteria.
Even though we would like to have a larger promotion and are open to collaborate with the media for interviews, sponsorships and even accommodating a small souvenir shop as part of the exhibit, these are not strict requirements for the show to happen.
Therefore we are open to negotiate the minimum requirements for it to become a reality, holding the show and collaborating together.
Thank you for lending us your eyes and your precious time. Serafina can't wait to land where she is welcomed and share her ever ongoing and unrepeatable story.
Diana Martin
diana@dianamartin.net