Diana Martin
Newsletter June 2021
I reached the end of Hell at the end of January. And by that I mean I finished drawing the third panel of what must be the most important commission of my career: a paraphrase of The Garden of Earthly Delights, El Bosco's best-known work. These drawings represented a great technical challenge, nine months of work that sheltered me in the first year of the pandemic, demanding my full attention.
Writing here that they were a challenge falls short because, although when I had achieved full speed and rhythm and went through a lot of joy, wonder and euphoria, there were also moments in which I did wonder, full of despair, what I had gotten into, complétele overwhelmed by the myriad of details that I had to take care of, examining the composition to be reinterpreted inch by inch.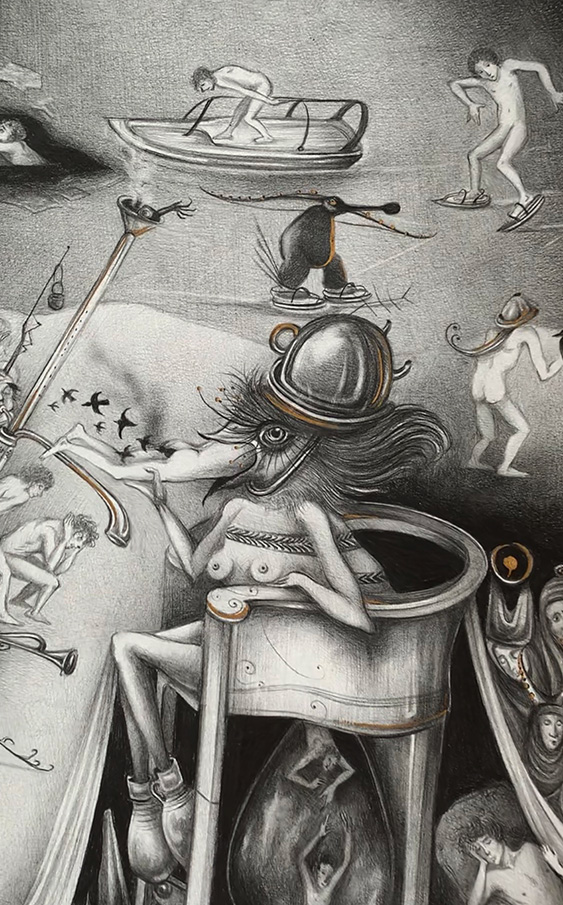 Exactly a year ago, in the middle of the sweltering Guadalajara summer, as I somatized my terror to catch covid with ever present headaches, I remember having nightmares in which I caught the virus, it got complicated against all my good odds and died leaving my work unfinished. The shame was endless.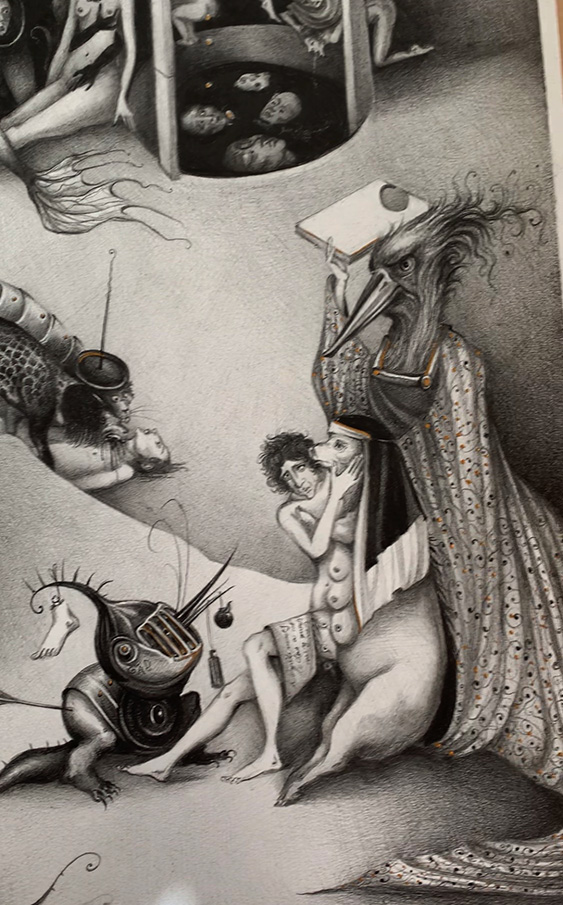 But I completed it. I delivered. By the time I was in Hell I already felt things becoming smoother, I felt like running downhill. The hellscape is my favorite panel with its deepest blacks, its harsh contrasts. The characters that populate it, suffering and tortured, with tense or sadistic and deformed faces, demons, monsters, chimeras. Fires, beams of light in the midst of darkness – all a delight to capture with my pencil.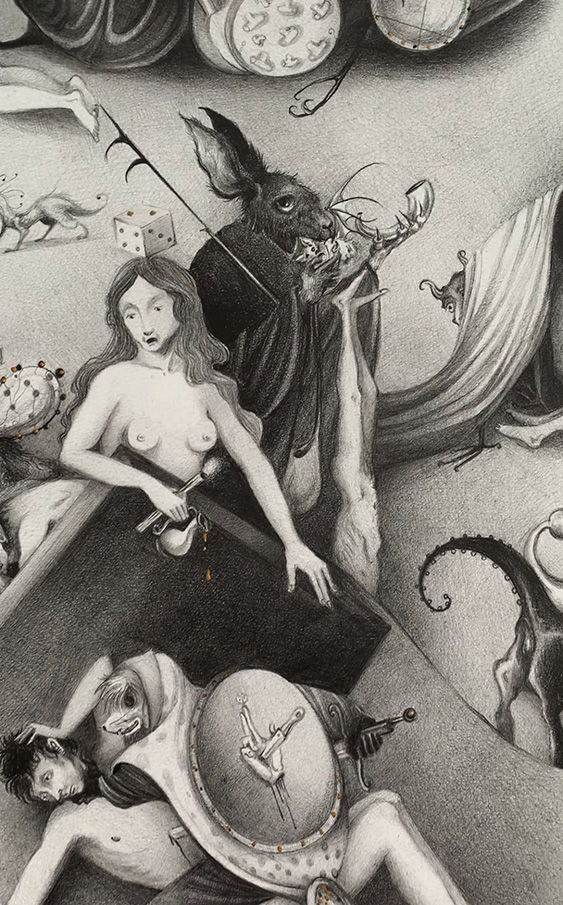 Then came the silence.
I had anticipated the end of this commission so much to get back to my own work and now I couldn't find my way back.
Even in those lost times of the creative process there are always loose ends that one can pull, clues to return: one was the Lord Diadema series, my beloved amblipigious child. His story, however, was not where I felt I wanted to go right away. I did not feel I was in the emotional nor mental place to finish drawing and writing where that deep love for his dodo ended and continued.
I felt guilty about it, I don't usually leave things unfinished. I am an anxious person, unfinished projects are a source of great distress for me. But I had to move forward and something that was clear to me in that soundless void was that the key was the ink.
For months, while I was working in the Garden, I fell in love with the work of the illustrator Yuko Shimizu, with her dizzying, exquisite, brave and extremely careful use of the brush. Lord Diadema is a series made with the same technique, but applied with a nib, line by line, intercrossing them to achieve the blackest of blacks and before that passing through all the shades of gray. Everything with a scrupulous control of the hand.
I think I longed then for the catharsis of letting ink run from the bristles of the brush, seeing how far I could control it and then not. Those irregular edges like subtle bites left by the brush on the paper when it is discharging the pigment captured my attention, the imperfect lines, the grayish drag of the hairs in which there is hardly any color left.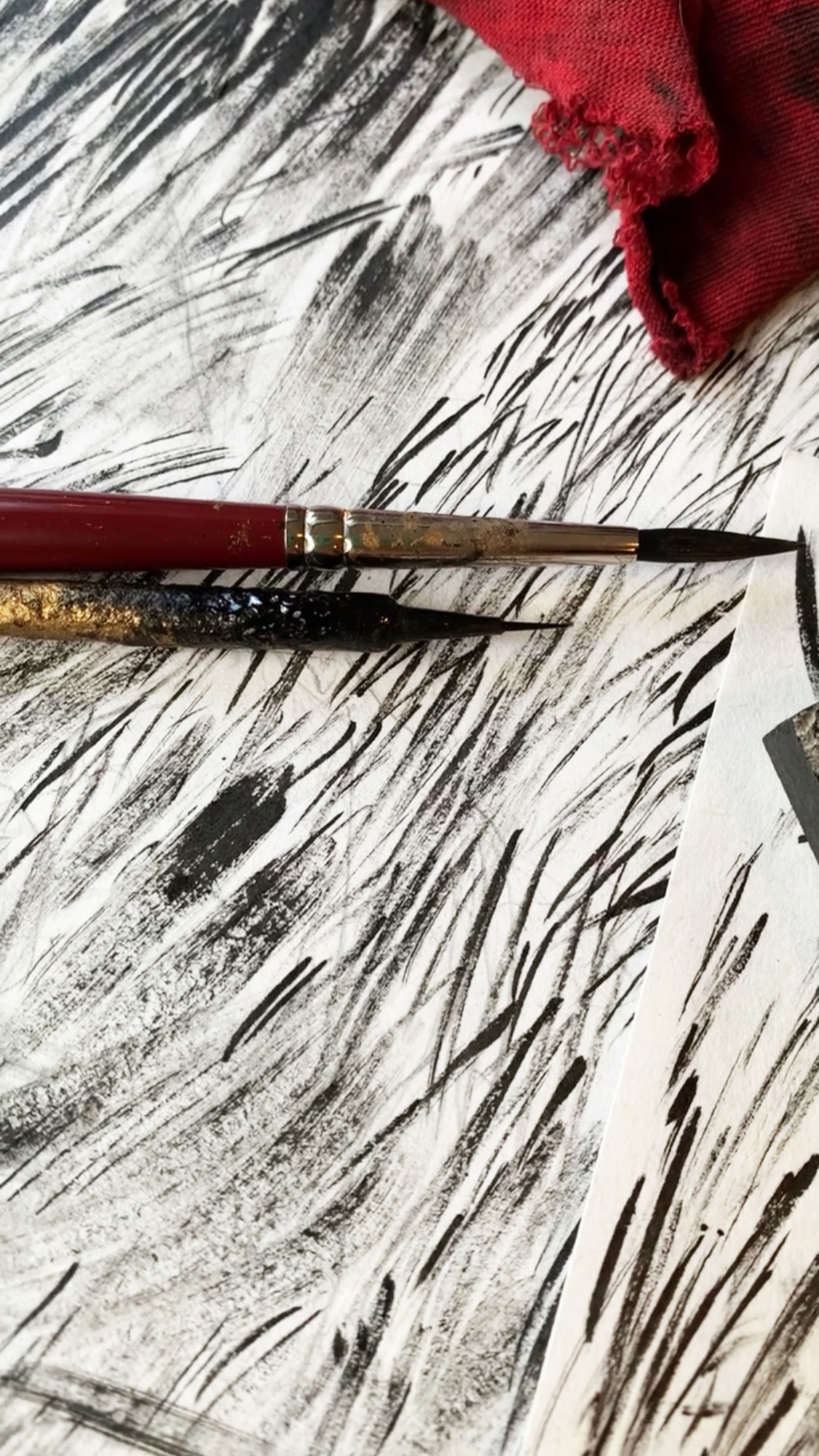 Another clue was a block of arches paper that I bought in Japan. I remember that I acquired it after inmediately falling in love with the format: a long, narrow rectangle of a small, intimate format. A size that I could easily take with me to work wherever I wanted, it would fit in my bag, in my backpack. A booklet that I could wrap my fingers around, dimensions that would force me to compose the scenes I chose to draw or paint differently, in an elongated plane like a wide-angle lens.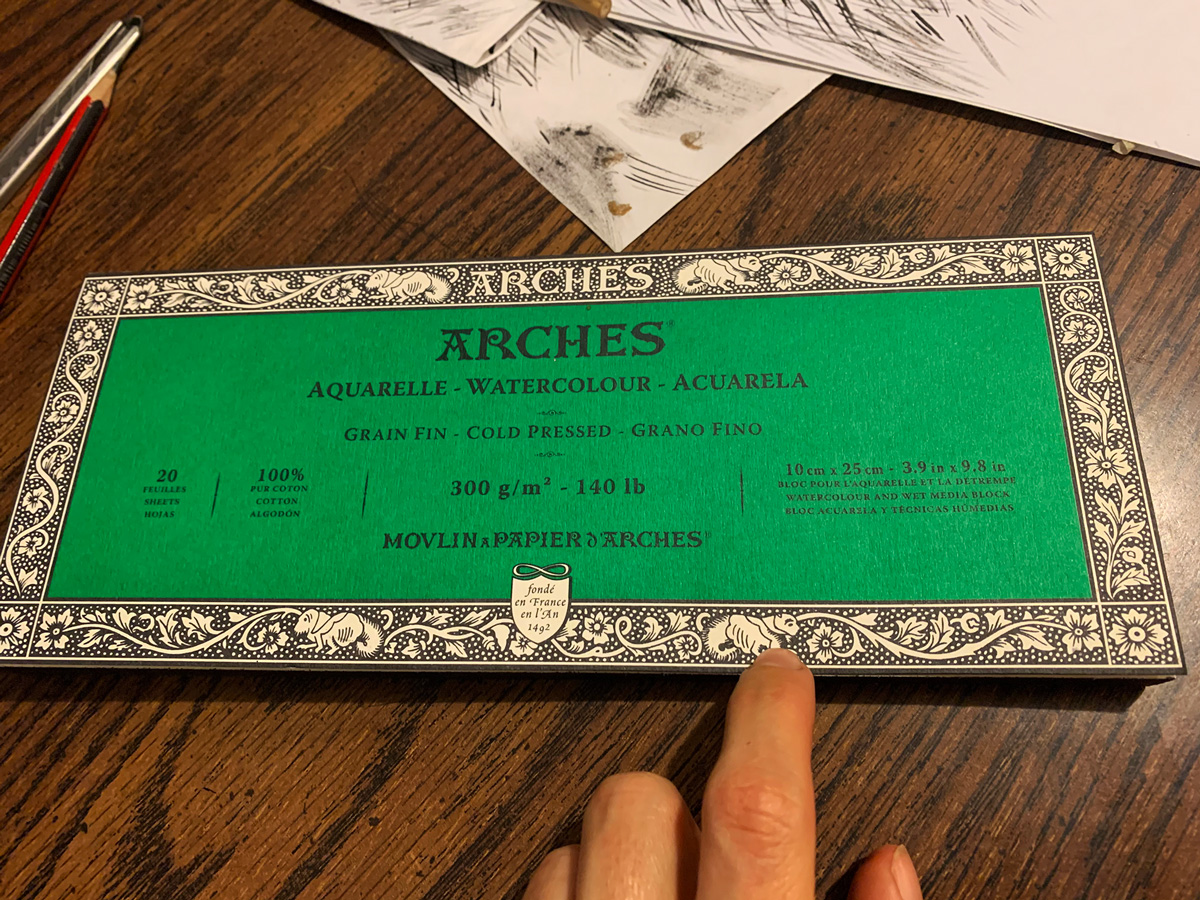 I started trying to imitate Yuko's style. I have always said that I have had so many teachers, most of then don't even know I have been their ardent student. All began in my teens when trying to emulate the fantastic elusive, watery dreamlike style of Yoshitaka Amano, almost drove me to tears of frustration. I studied thoroughly (according to me) his use of the techniques: his strokes of what I in that distant time took for oil crayons and later it turned out to be lithography, the dirty, non-conservative way with in which he splashed and played upon the paper with the white acrylic, the stains caused by the drops of water when it navigates its way through partially dried watercolor (what is known as "miadas" (spanish) in painting lessons). All of this challenging as well as enriching what my academic watercolor teacher taught me in the classes I attended every Tuesday.
Trying Yuko's style to familiarize myself with the ink applied with a brush lasted very little as my own way of using the technique emerged, I am sure that in my hand the muscle memory slept from when I used a lot of brush in my teens and early in my career.
At that time I used ink washes in combination with watercolors and colored inks. It was only a matter of days for me to know that I found my way back, I had ignited my creativity, a new energy refreshed me, ideas began to pop, silence recoiled. The possibilities promised by the ink and brush, by its very black lines and strokes, either fine or thick, of smudged grays, with effects sometimes feathery, sometimes abrupt, had me ecstatic. I have let them flow without questioning, knowing that alone they will constitute a whole. I really like this style that I have found, it forces me into a new decisiveness as I have to do things good in the first attempt. This has led me to draw sketches before, to rehearse. Something very strange for me.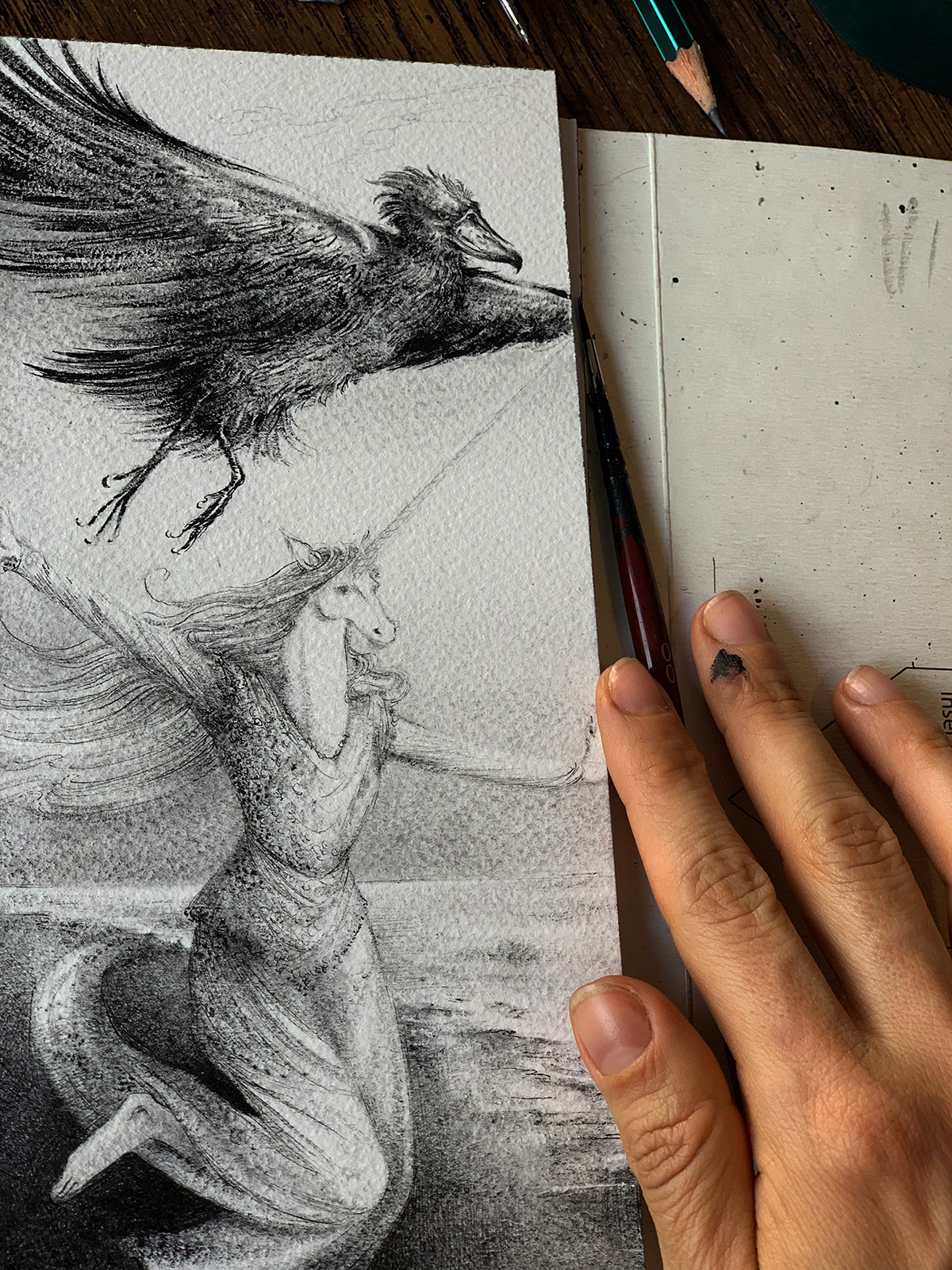 I have completed twenty small works, all exploring Serafina's complex, loving, sometimes stormy relationship with her two shoebills. I have discovered that the series is also about the bond that Fina maintains with her two adoptive mothers: Luciana and Vita, and with her dead mother, Gilda, whom she never met. All this is describing a circle that will invariably lead me to look closely at her friendship with Lord Diadema, a man dedicated to preserving what he considers unrepeatable, and the origin of that obsession rooted in a deep mourning, in a fracture of his childhood that it is told in the book that I could not resume right away.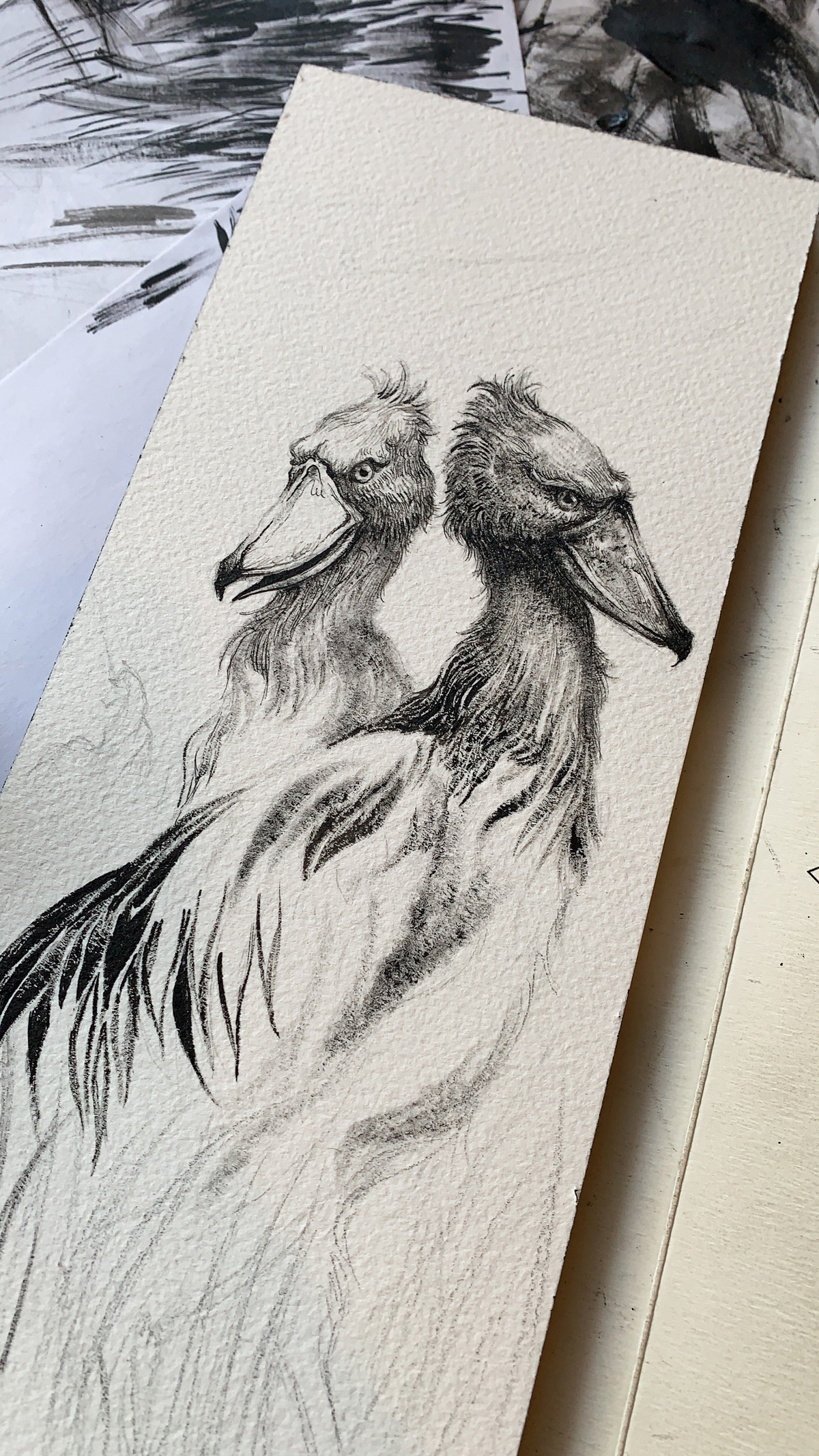 This is how I think things are going, I want to exhaust this new creative vein to the end. Paint and draw my Serafina and her loved ones, her relationship with the world. I want to see how far she goes. For the first time in my career. Without halting or stops in the process. You will see.
I love you, thanks for reading me.
Diana Martin