Diana Martín, newsletter
October 2020
Dearest all,
In a normal year, an usual year on which one more or less can project and look and see what shape the future is coming, predict what will likely happen and make a reality of what inhabits our heads, this mail would carry the joyous news of my new exhibit/art tasting, you would be knowing about what venue it would be taking place in, what time, and then, that delicious expectation that has always had the virtue of getting me as excited as it makes me nervous would begin to build up.
My visit in person to many of you would begin too, I would deliver a printed invitation to each of you, say hi and share a hug.
But the year is 2020, nothing about it has been typical or predictable and because of the situation having the entire world holding its breath, this year I won't be able to hold that party my annual event has been on almost every year of my career.
This months have found me focused. The nature of my work demand a solitude and confinement that have only been increased by the current events. I am working on what should have seen the light this year, I have been scheming, sometimes in hope, others in anxiety, waiting for the landscape to clear and be able to see each other as before.
All in all, this year I did have an exhibition. On January and February I traveled to Japan, I set up a pop-up show in Tokyo having a warm and generous welcome by the japanese public. I locked myself for an entire day in my hotel room at Hakodate while outside a blizzard roared, the first I had ever seen in my life, to draw small format pieces that I exhibited among other drawings I took with me in the trip for this purpose.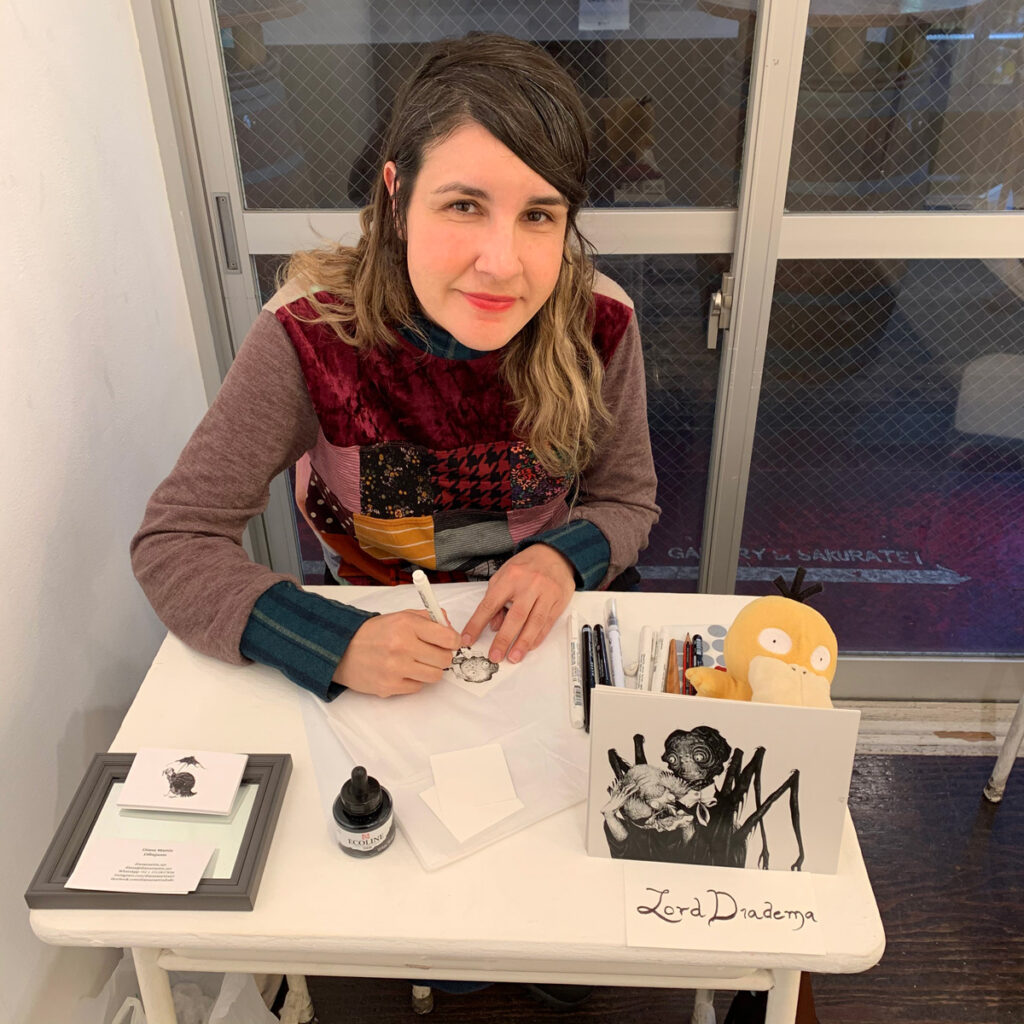 During this trip I discovered the startling beauty of winter, with its world devoid of color, its skies as huge metallic mirrors, the blindingly white freshly fallen snow crunching under my feet, an absolute silence where you can hear the cautious chirping of the birds when they come to perch on top of the tree's most delicate branches, and still perceive the most subtle of sounds: the sigh the snow makes as it falls off the tree and hits the forest floor among the prodigious light of its early twilights.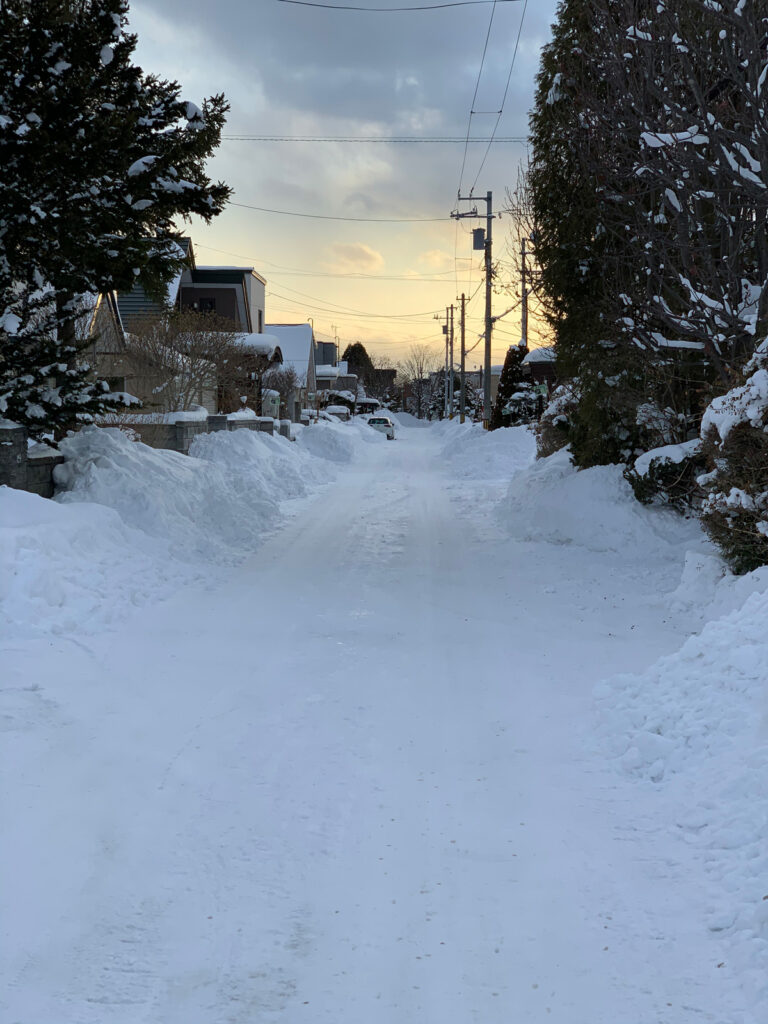 I was witness of a world that echoed with the one I have been drawing for many years. I discovered that it does exist, that I can walk through it.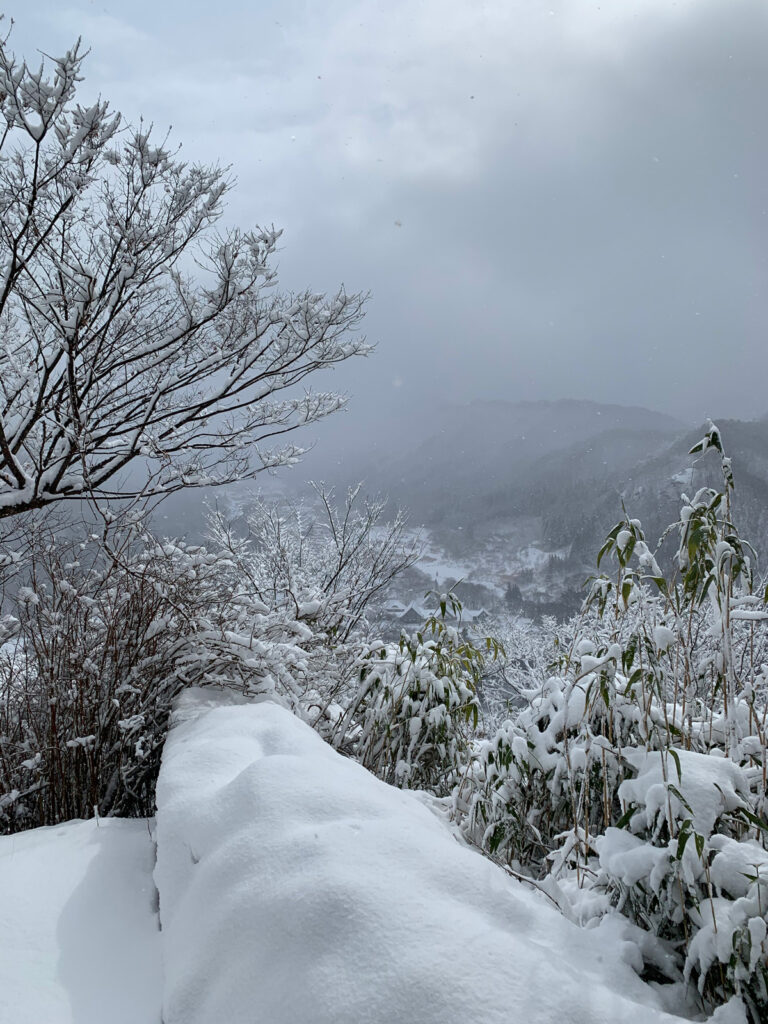 In 2021 I plan to return with a bigger, better planned exhibition, applying the lessons I learned from this one. My next two books: Lord Diadema and his Dodo, and Serafina's new one are still in the oven. The first will be released in 2021, from the second, its large-format drawings will form the body of my next exhibition. It will be a series of highly elaborate atmospheric works in which I seek to reflect the emotional landscape, the inner world of Serafina, sometimes so full of silence, the silence of those who are holding their breath, a living and spectating silence. In other drawings, her silence is like a void waiting to be filled.Starting in January, I will fully begin to close the Lord Diadema series and continue with this thread of Serafina.
I also want to share with you that these months have found me drawing the most important commission of my career: it is a paraphrase of The Garden of Earthly Delights by Bosco in graphite and gold ink. I was never fully prepared for the magnitude of this project that has pushed me to break my limits, to gain more confidence, to resolve compositionally and technically as never before in a technique that I thought I already knew in depth.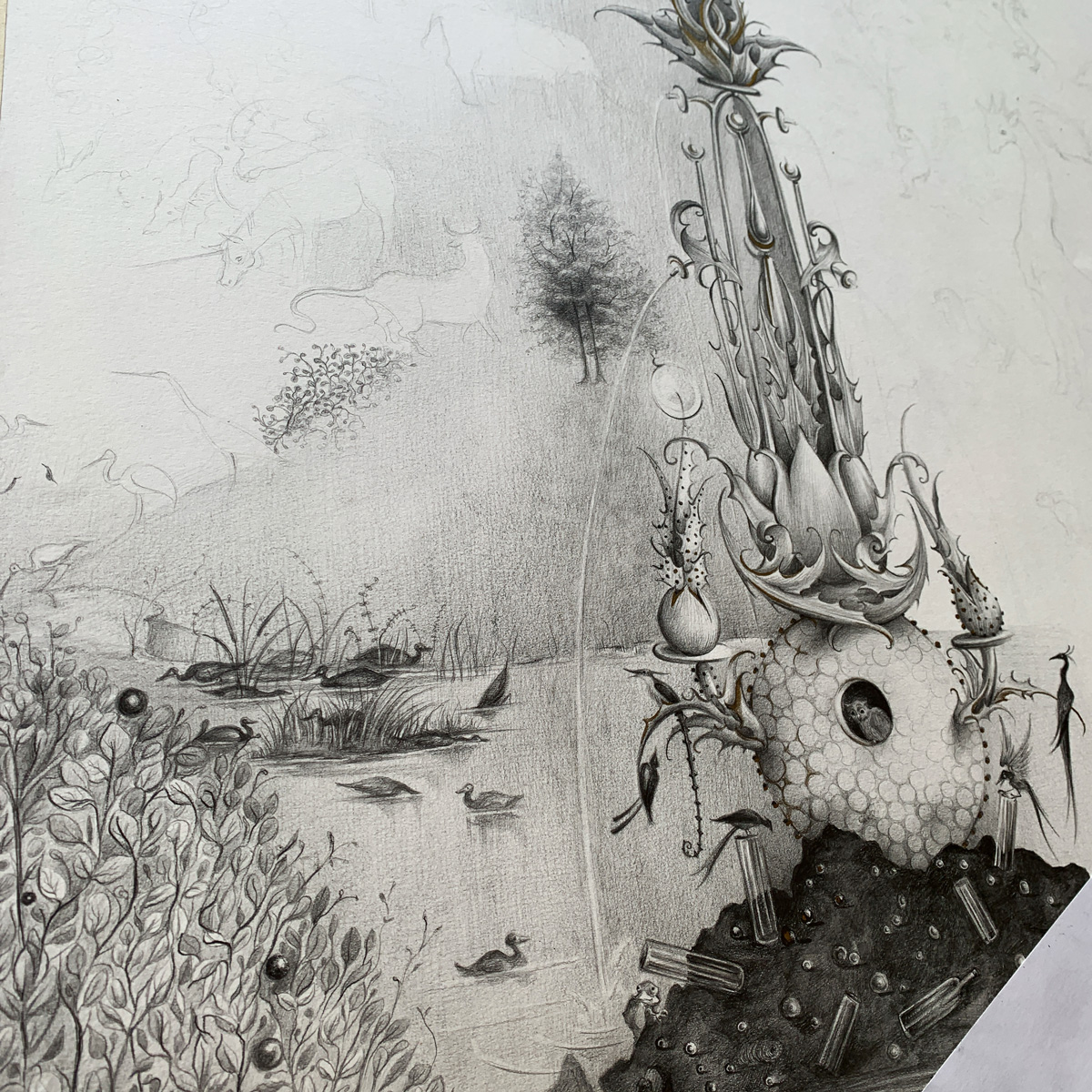 I have studied the original work inch by inch to adapt it, to understand its hidden order and to be able to introduce new elements, symbols and portraits according to the wishes of my dear collectors. It makes me very happy that this triptych is getting closer and closer to embellish their living room, I hope they see it every day and discover more and more details. It has been a labor of great concentration and love.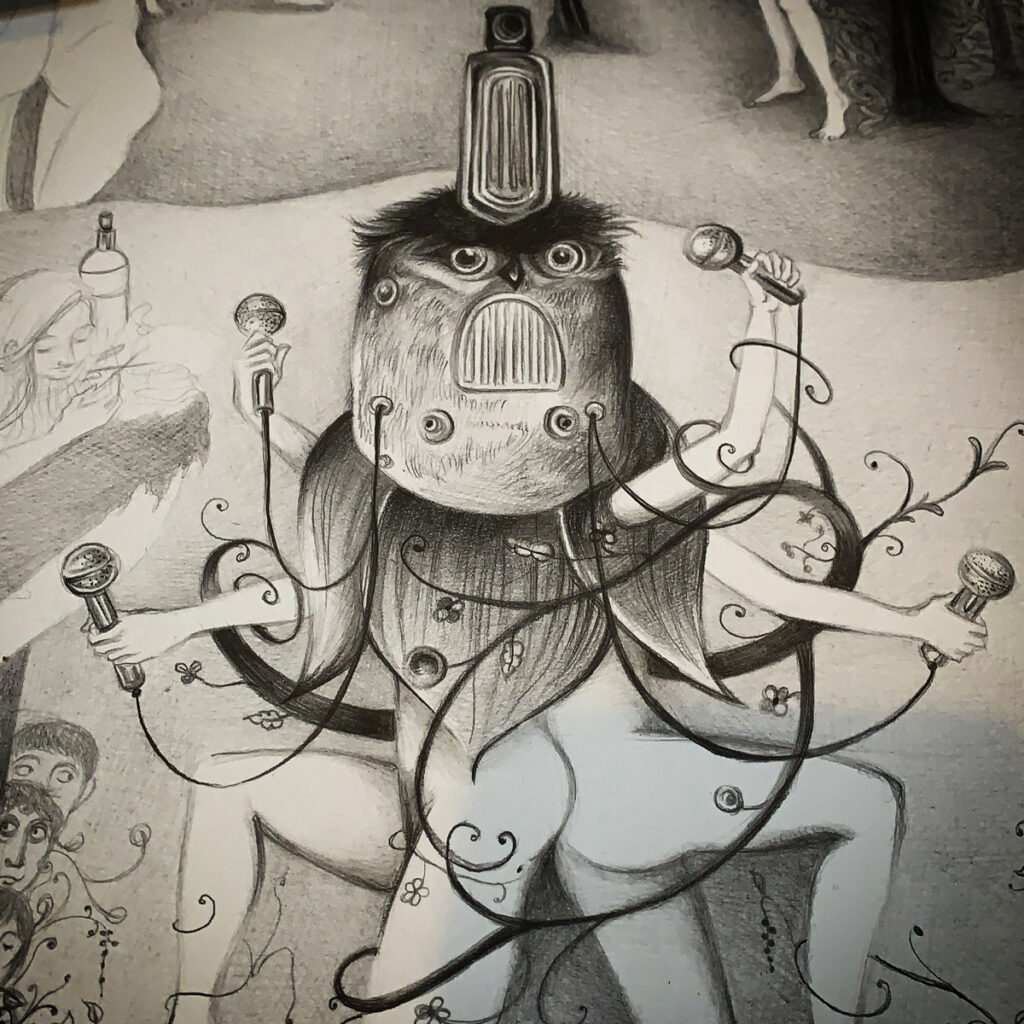 And finally, it is also at this time of the year when I launch the Collectors Program, this noble and flexible modality that has operated for years under the premise of trust is what has allowed me to continue advancing in my career, it enables and shelters me.You can purchase original work paying from eighty usd each month, either for a piece that already exists or you can accumulate balance and have priority to see the finished drawings before the next event and choose the one you like best. You can join the Program whenever you decide and support the flight of things that no longer exist.
I am fully available to answer any questions or concerns you may have regarding the Program. You can send me an email or contact me through my social networks. I'm constantly walking around, being here and there, but almost always at my drawing desk.
I hug you tight, keeping you present more than ever, hoping that you are well sheltered and safe in these strange, uncertain times, and that your days are long and happy.
Thank you for all this years,
Kisses,
Diana Martin